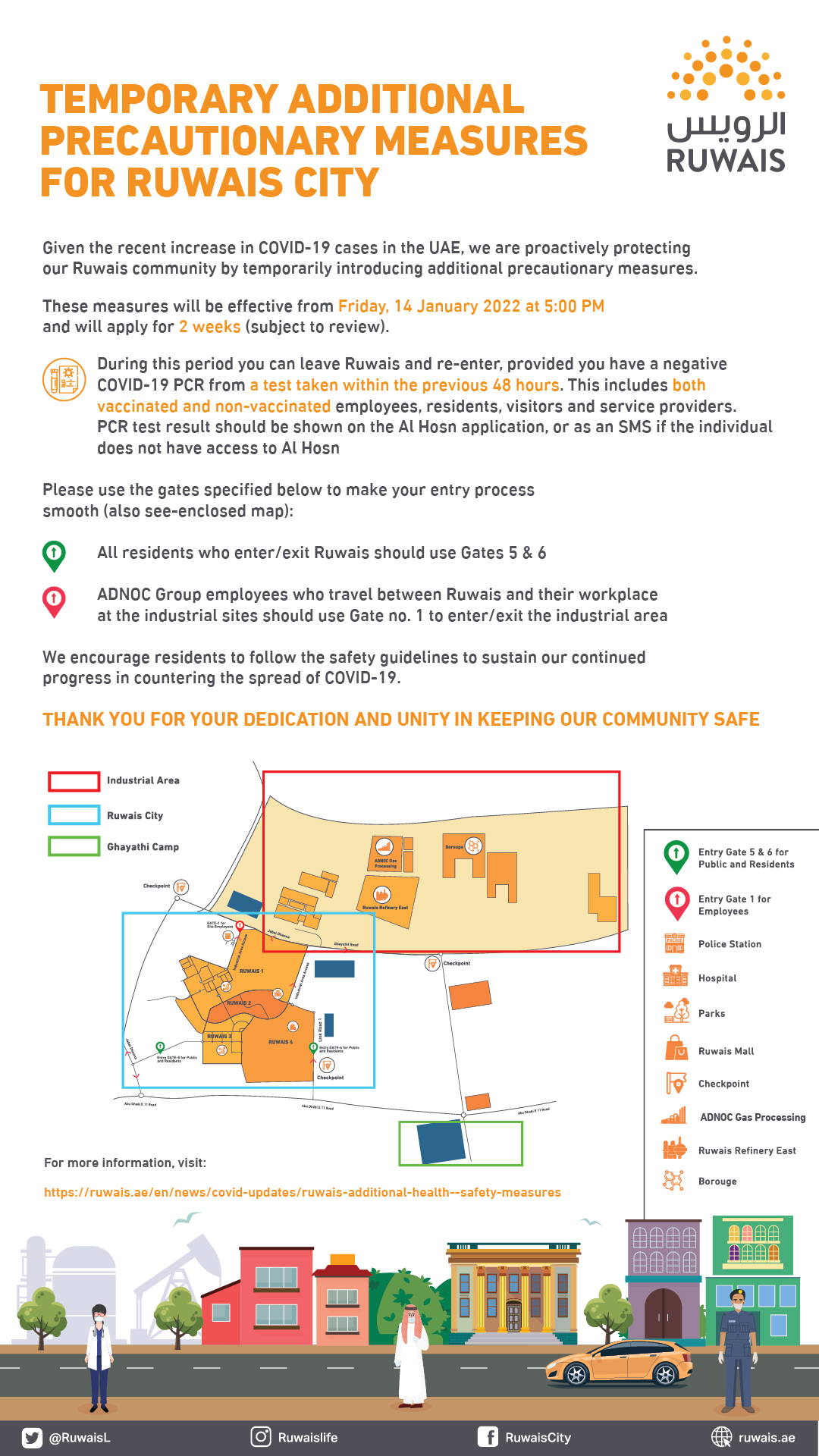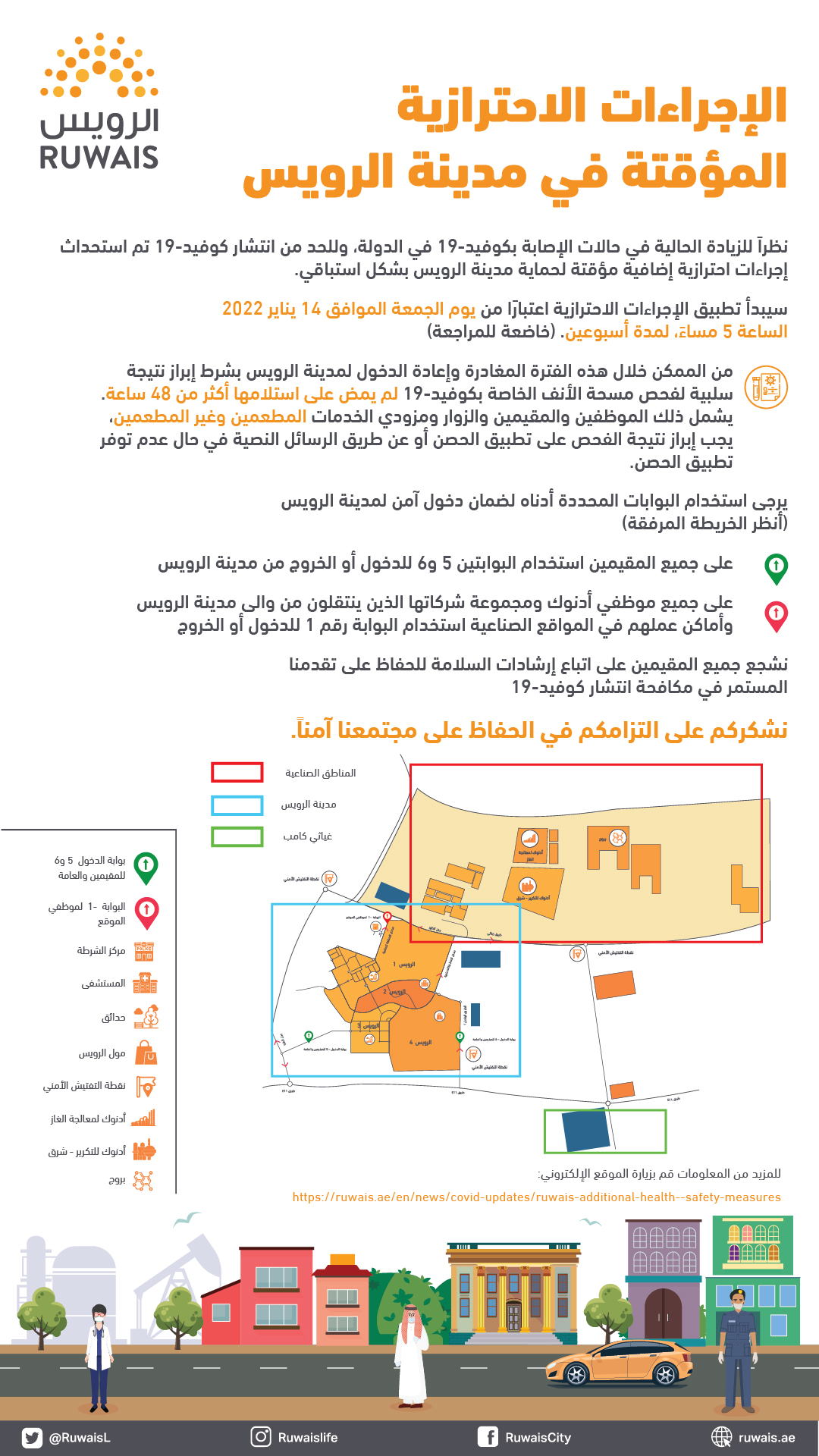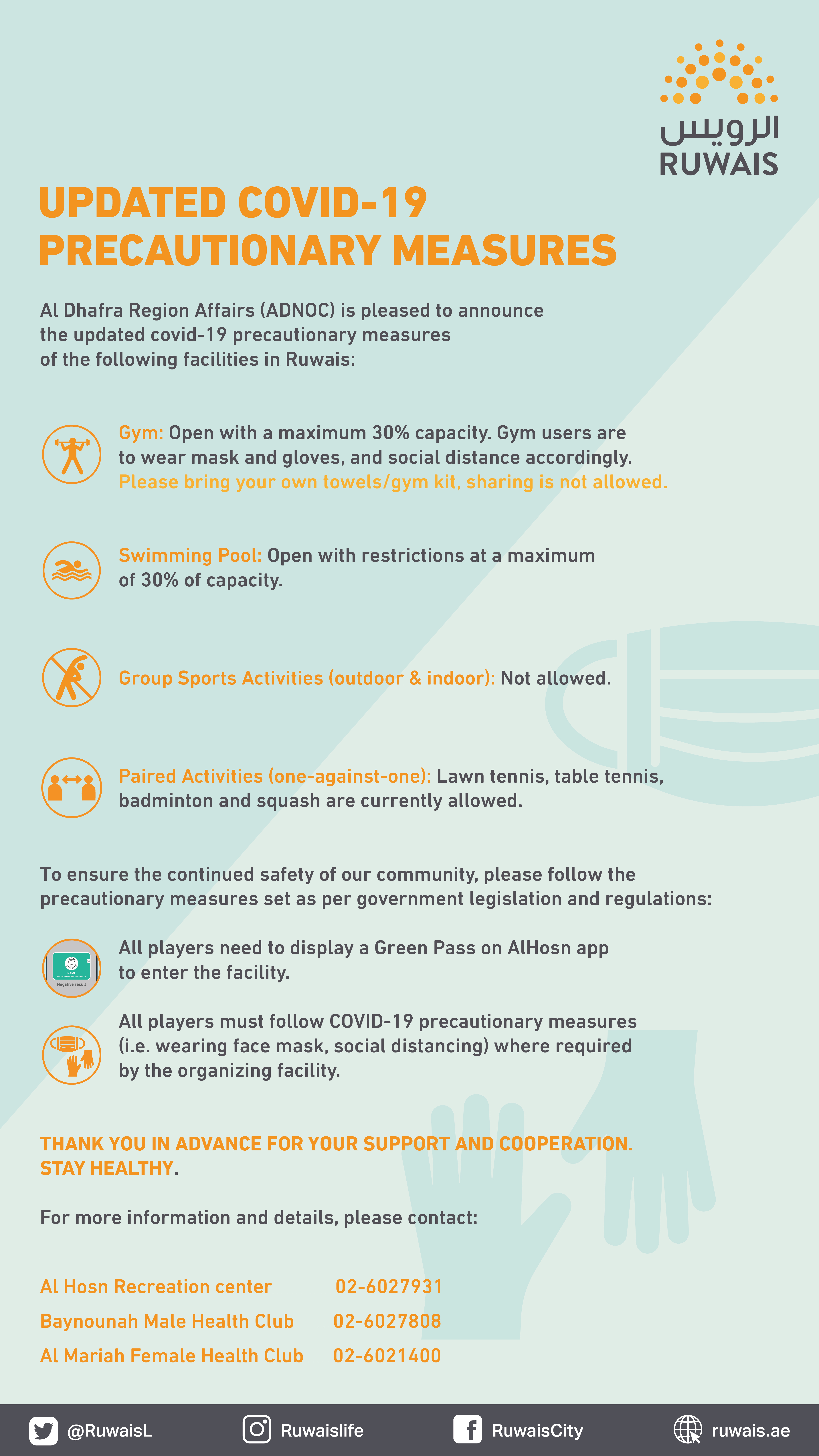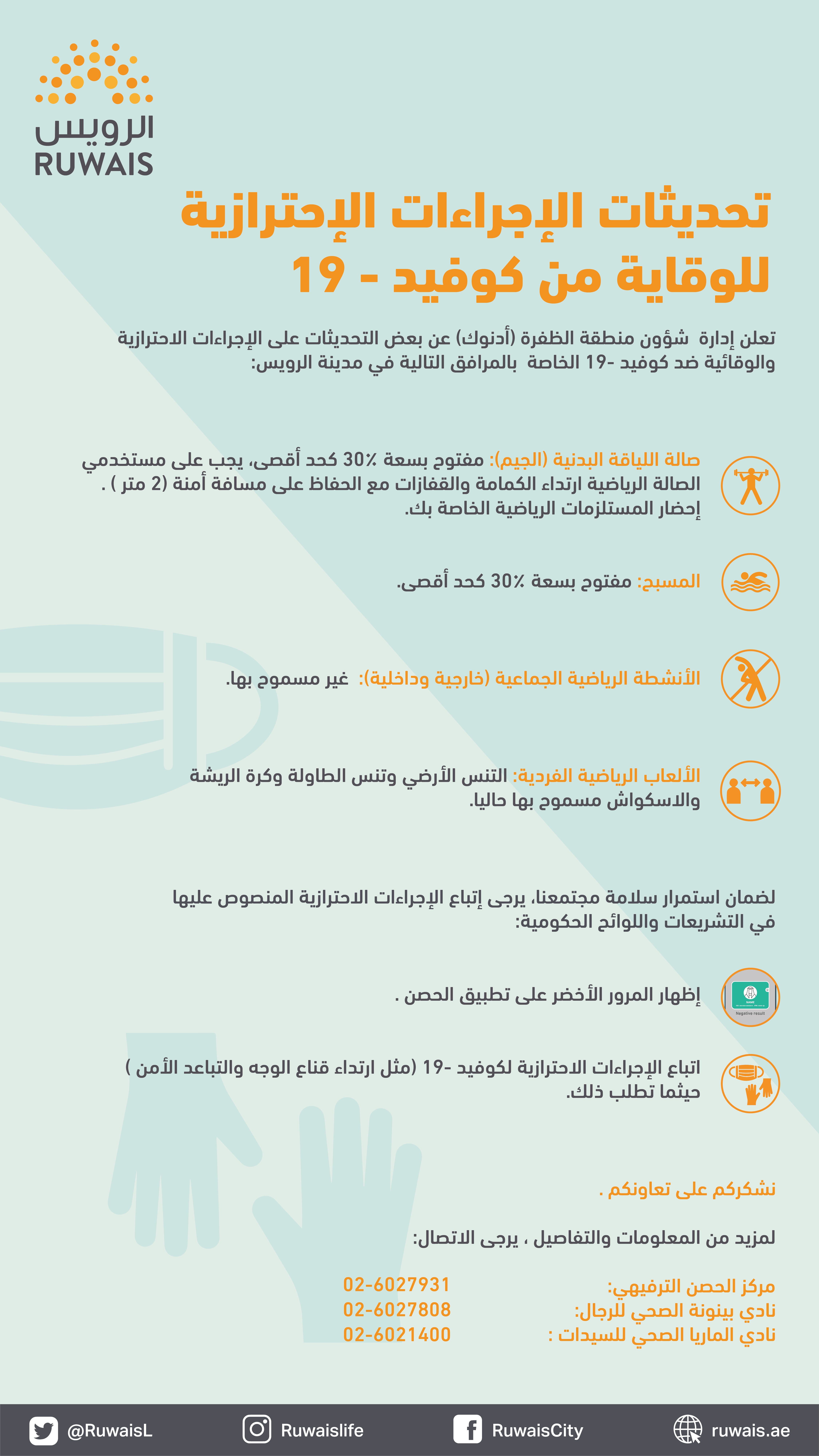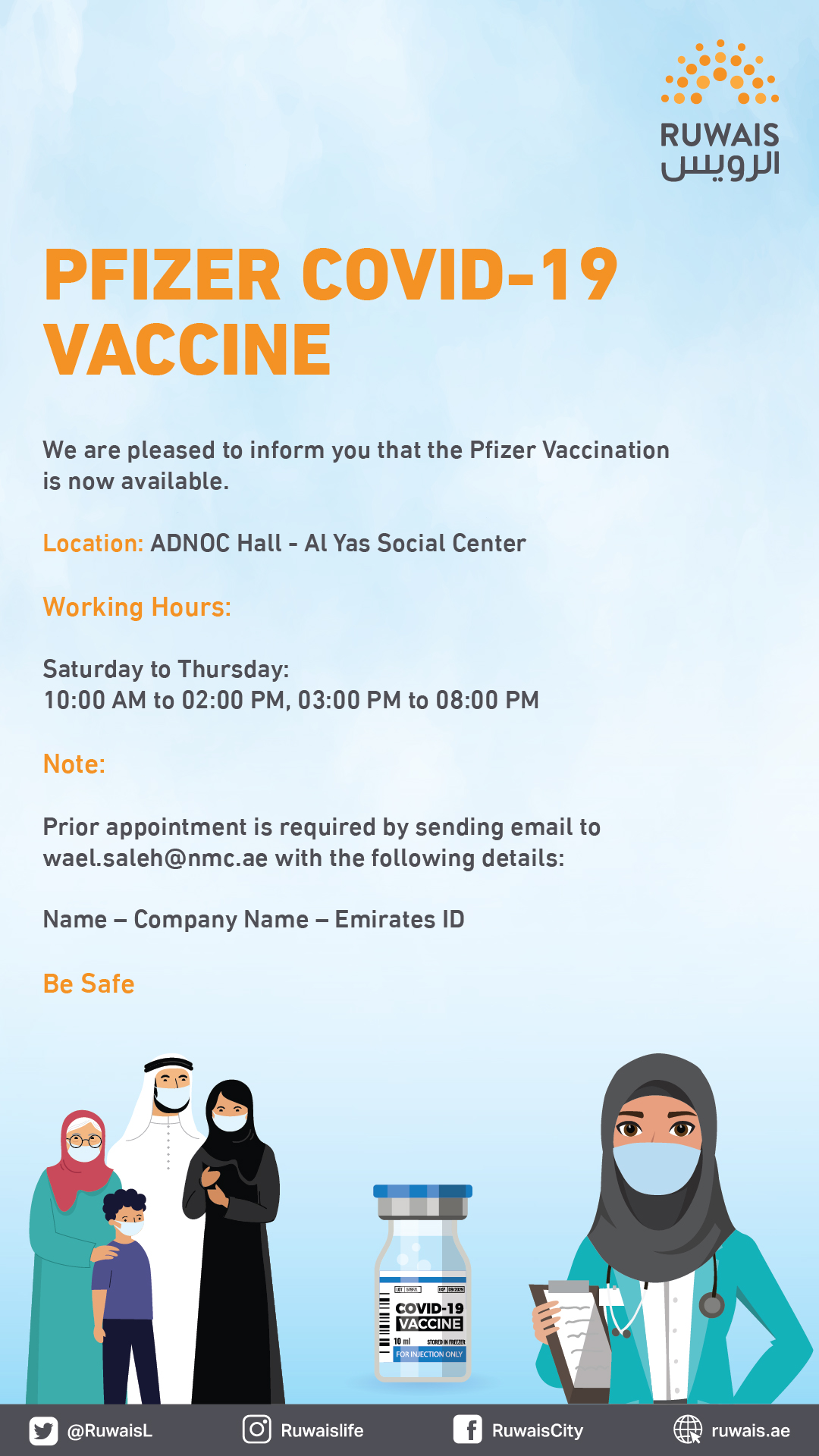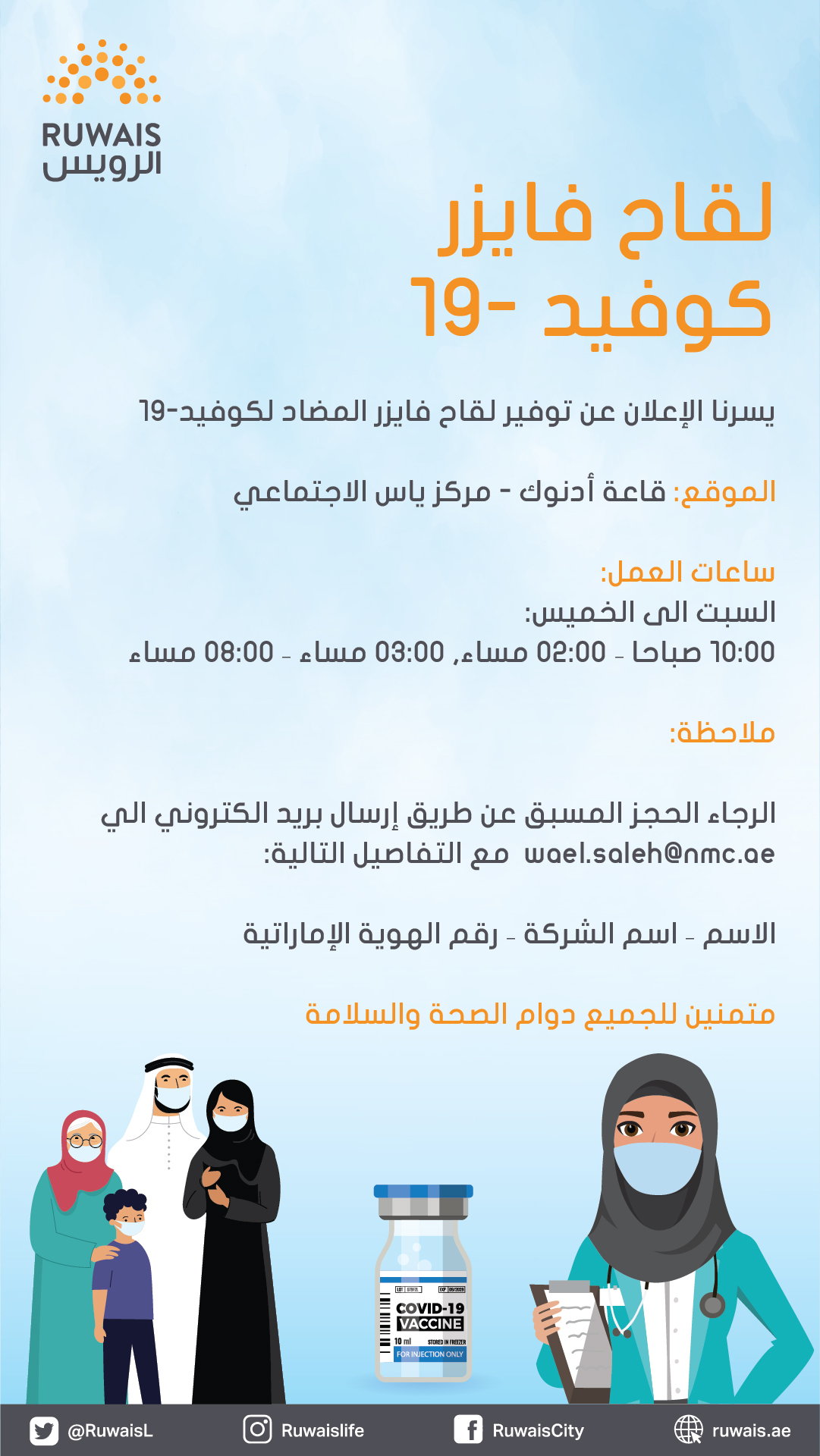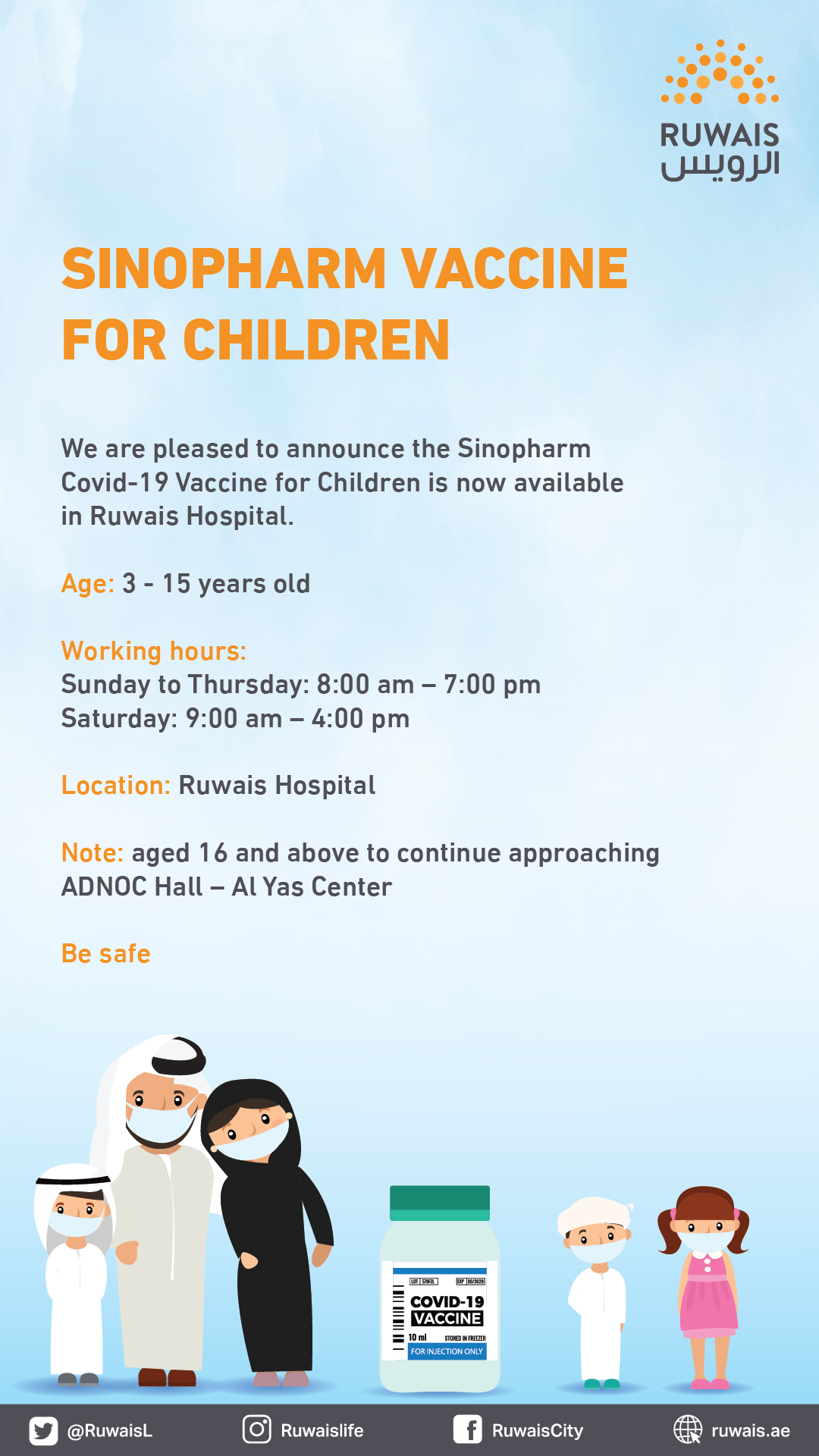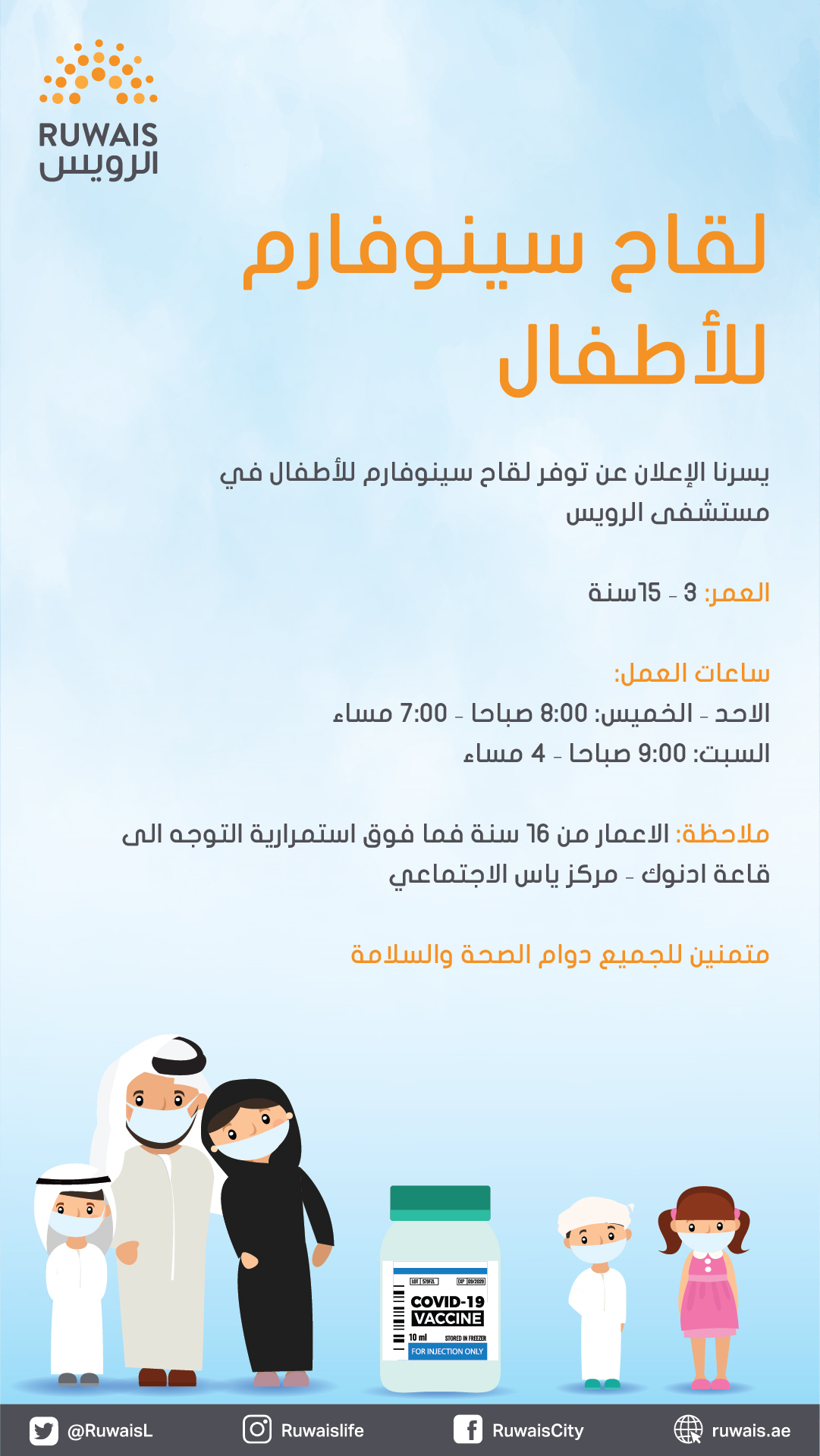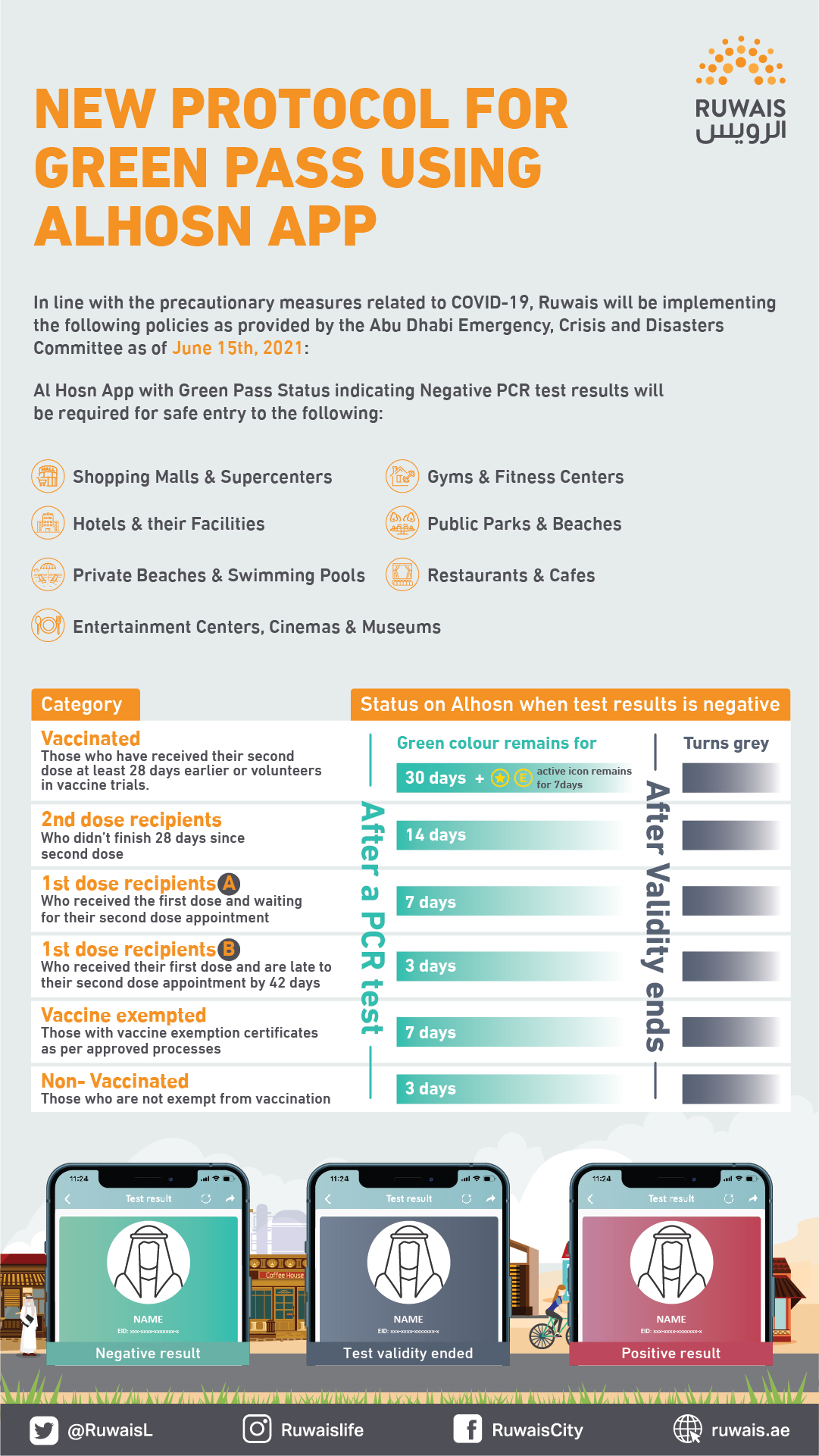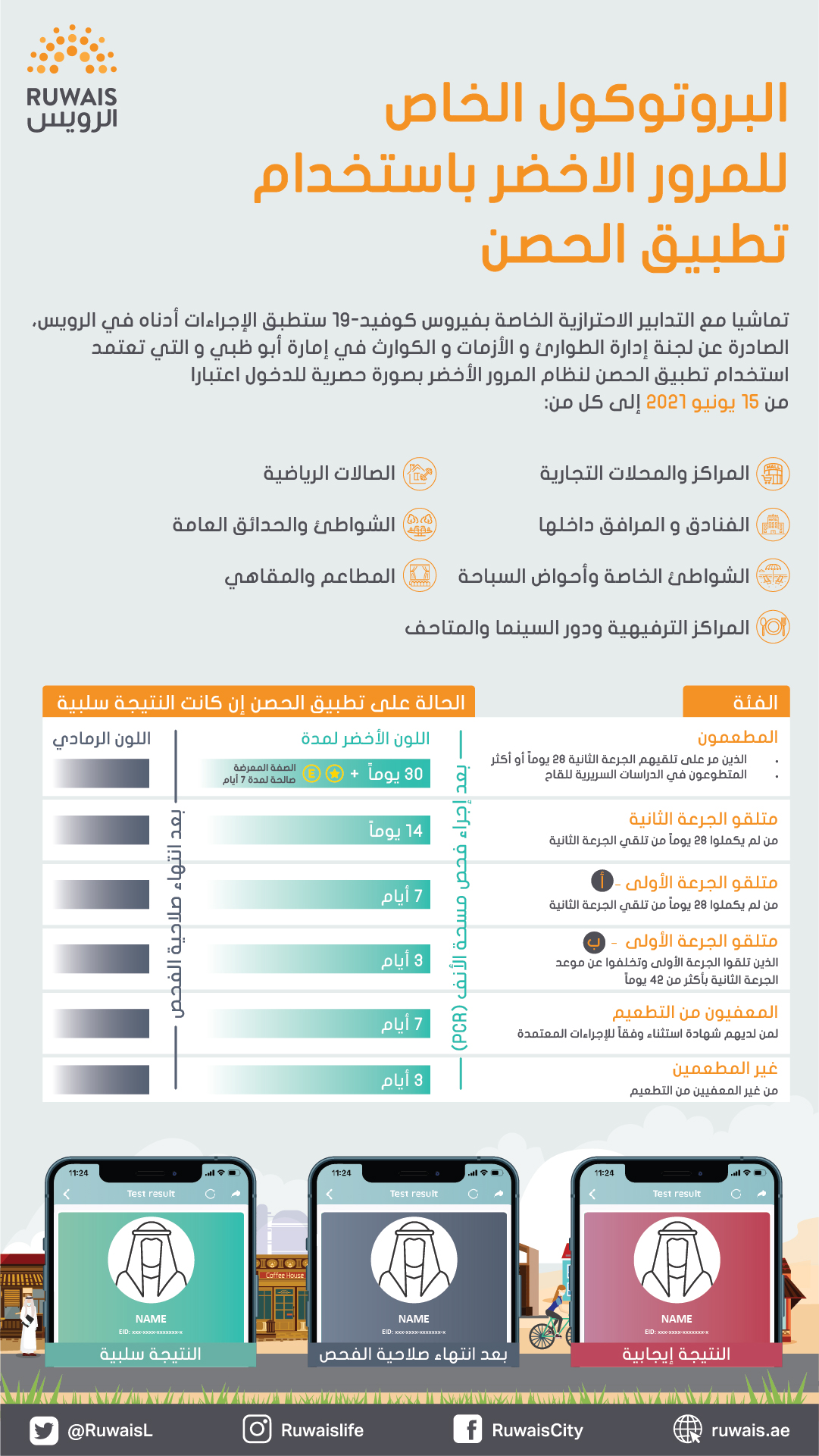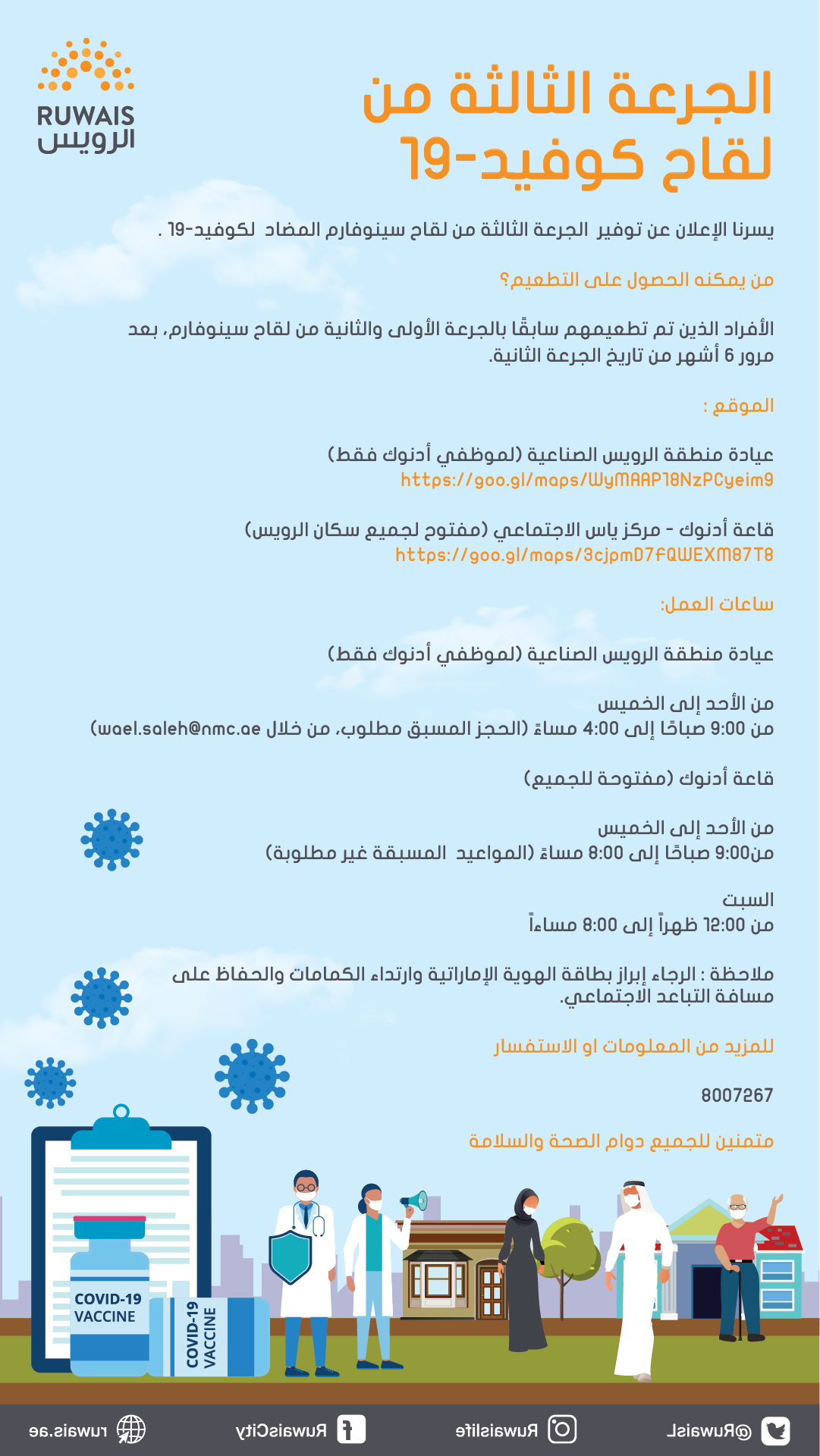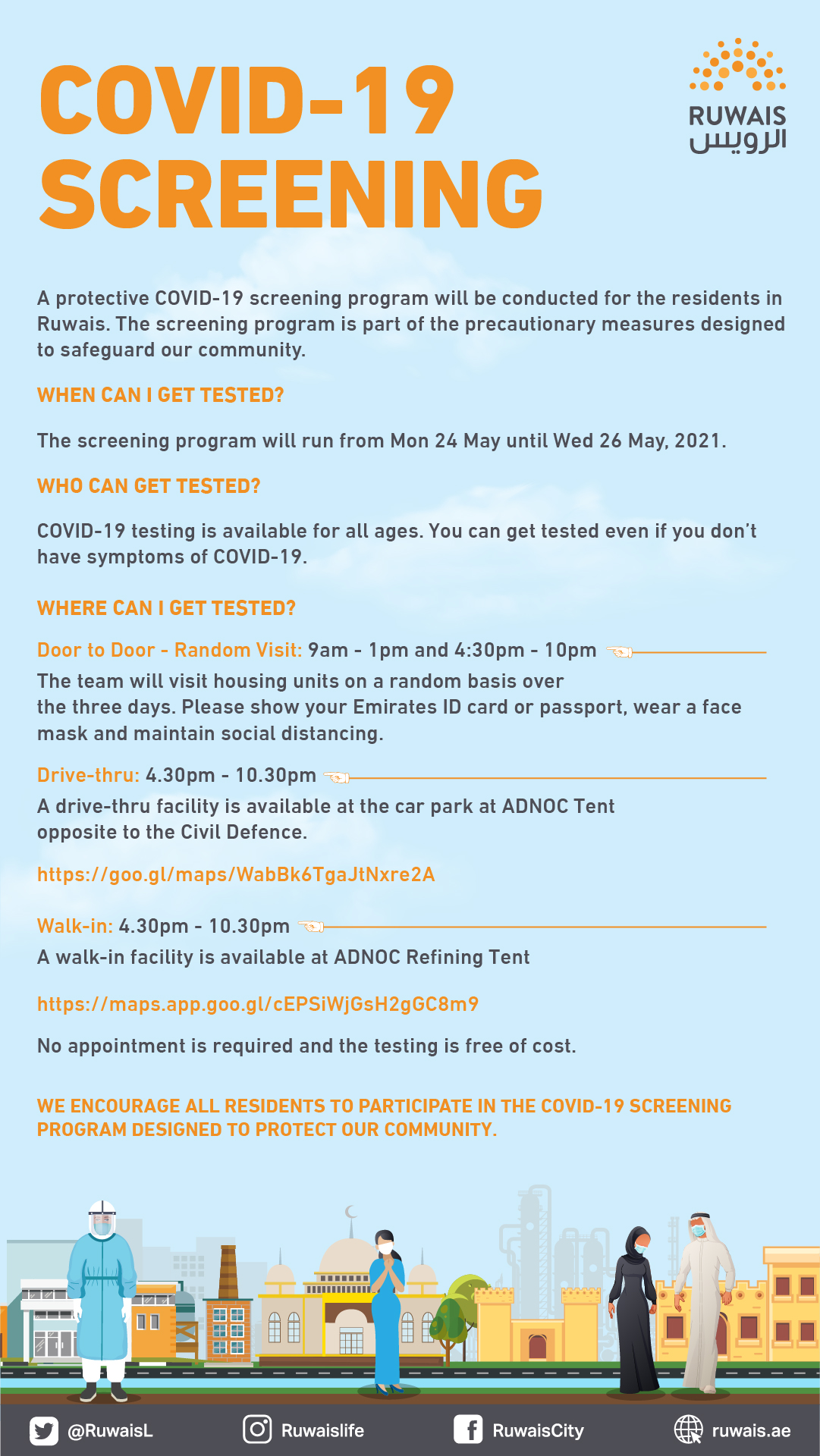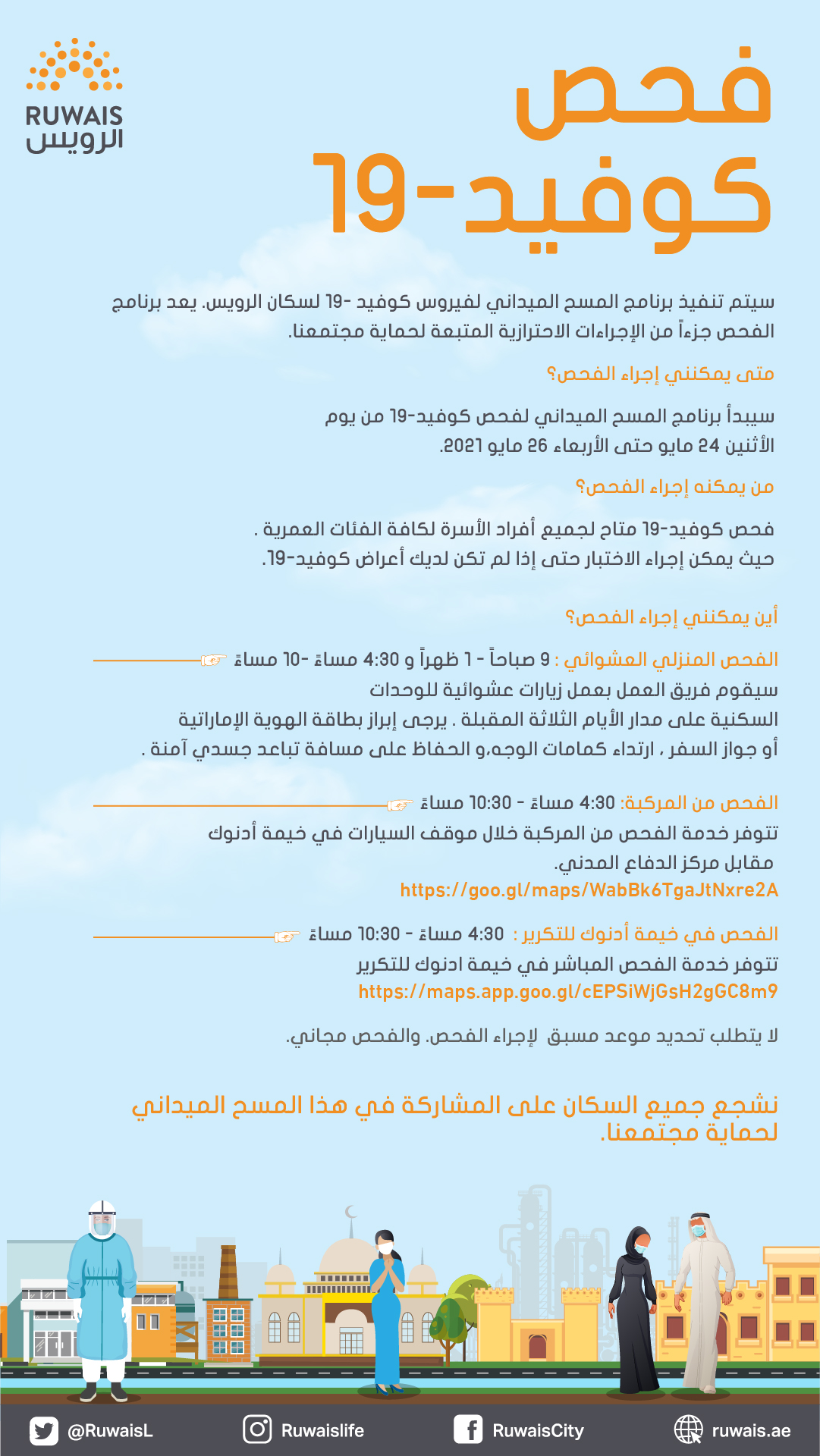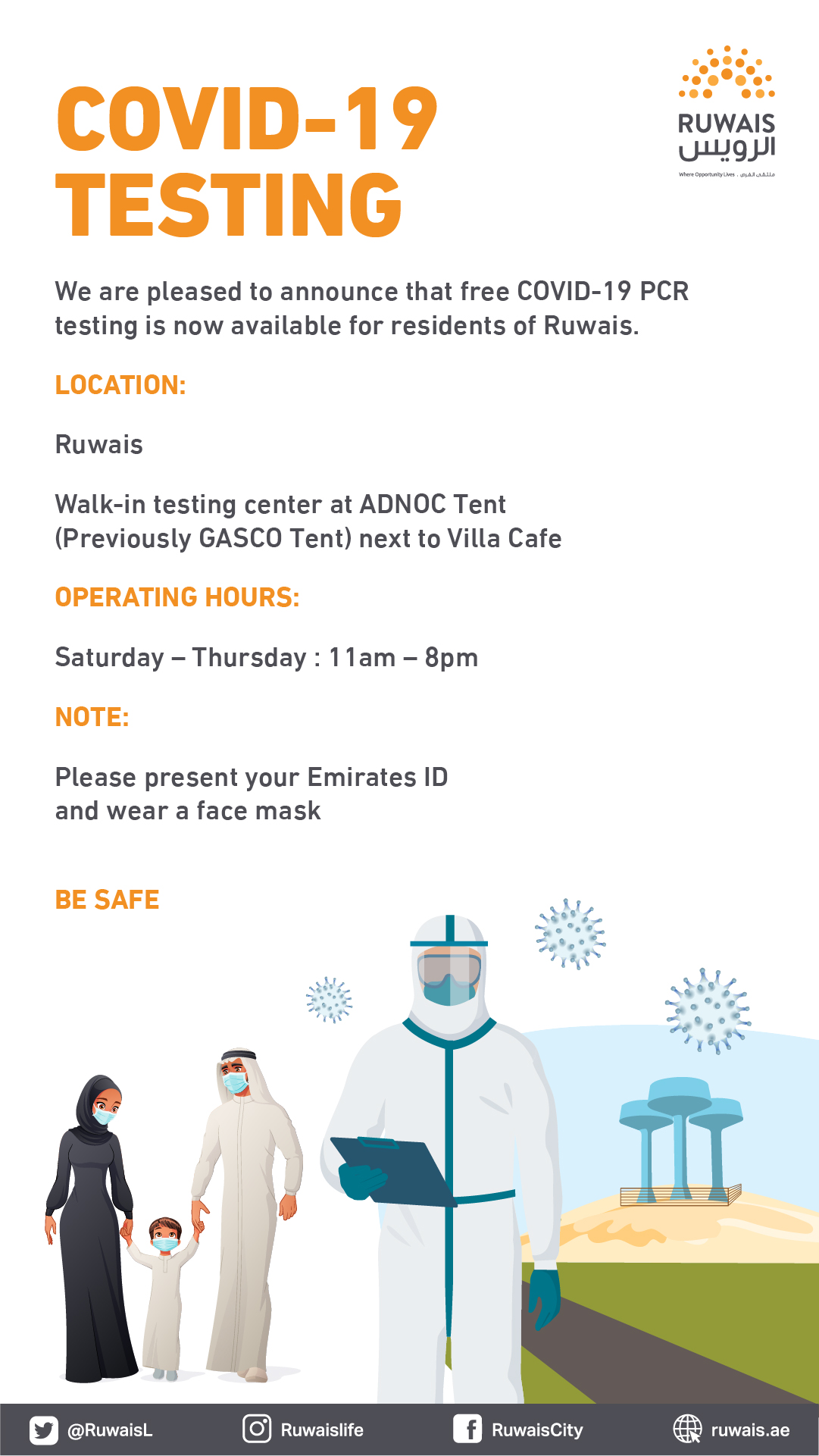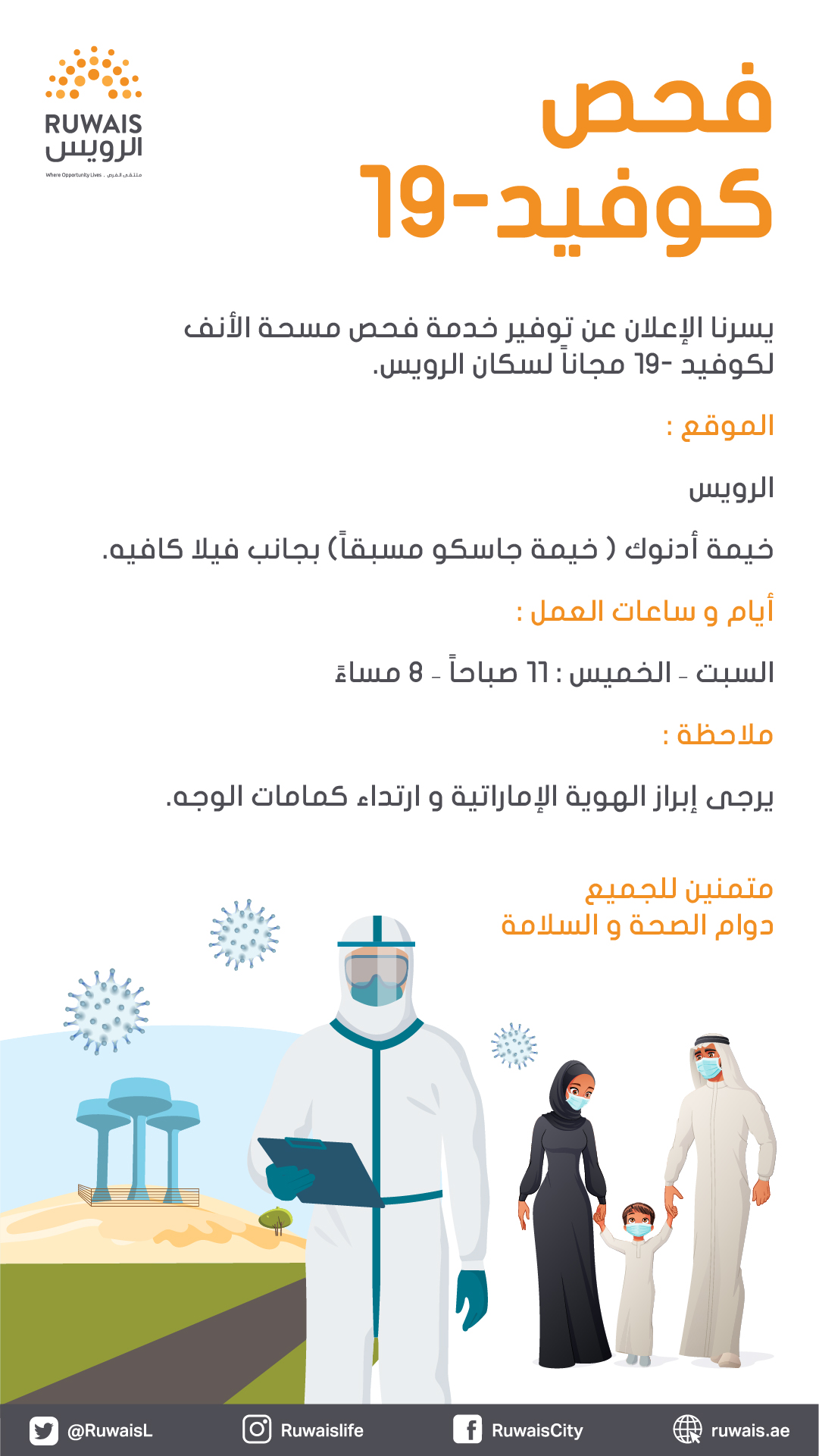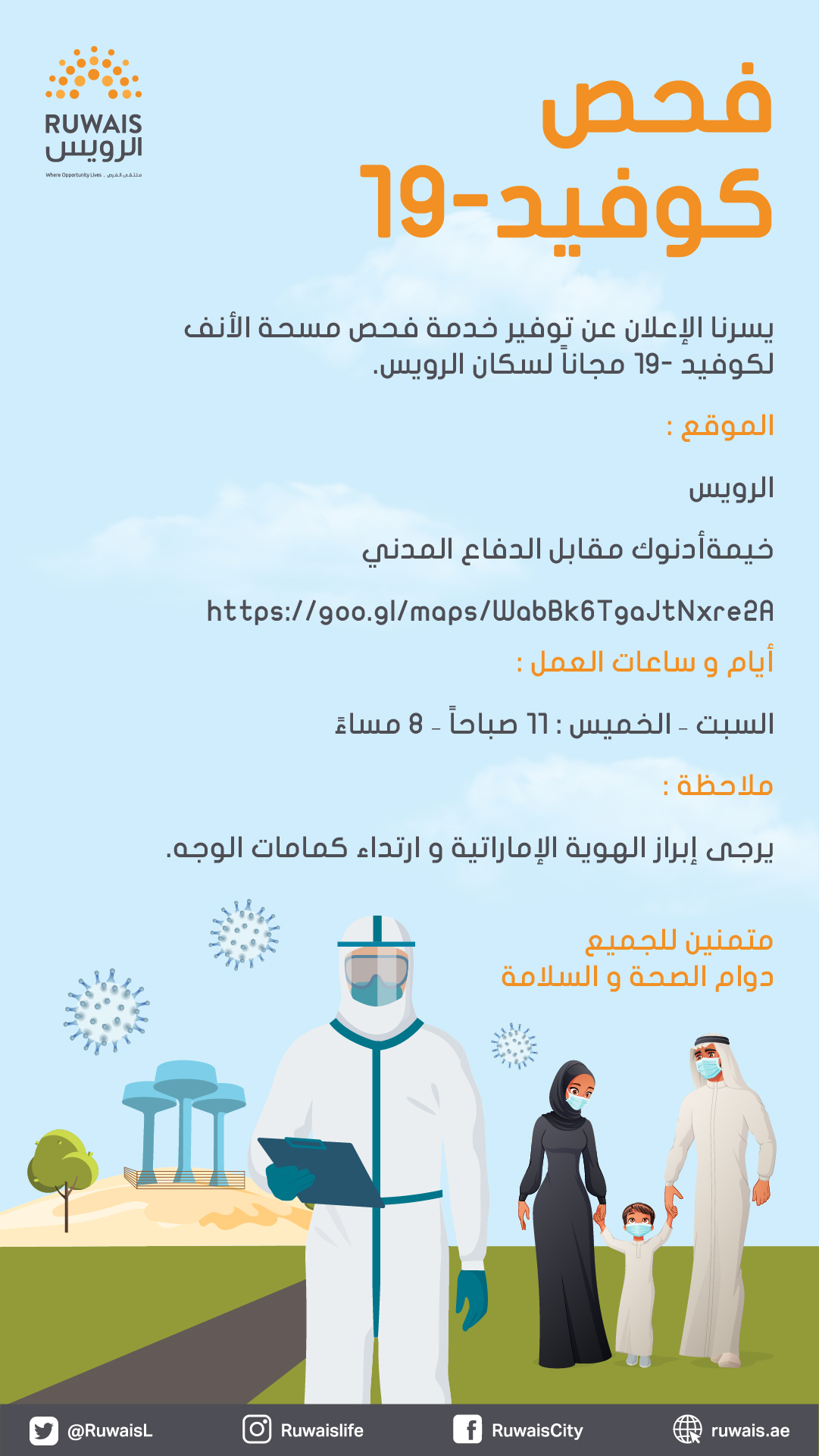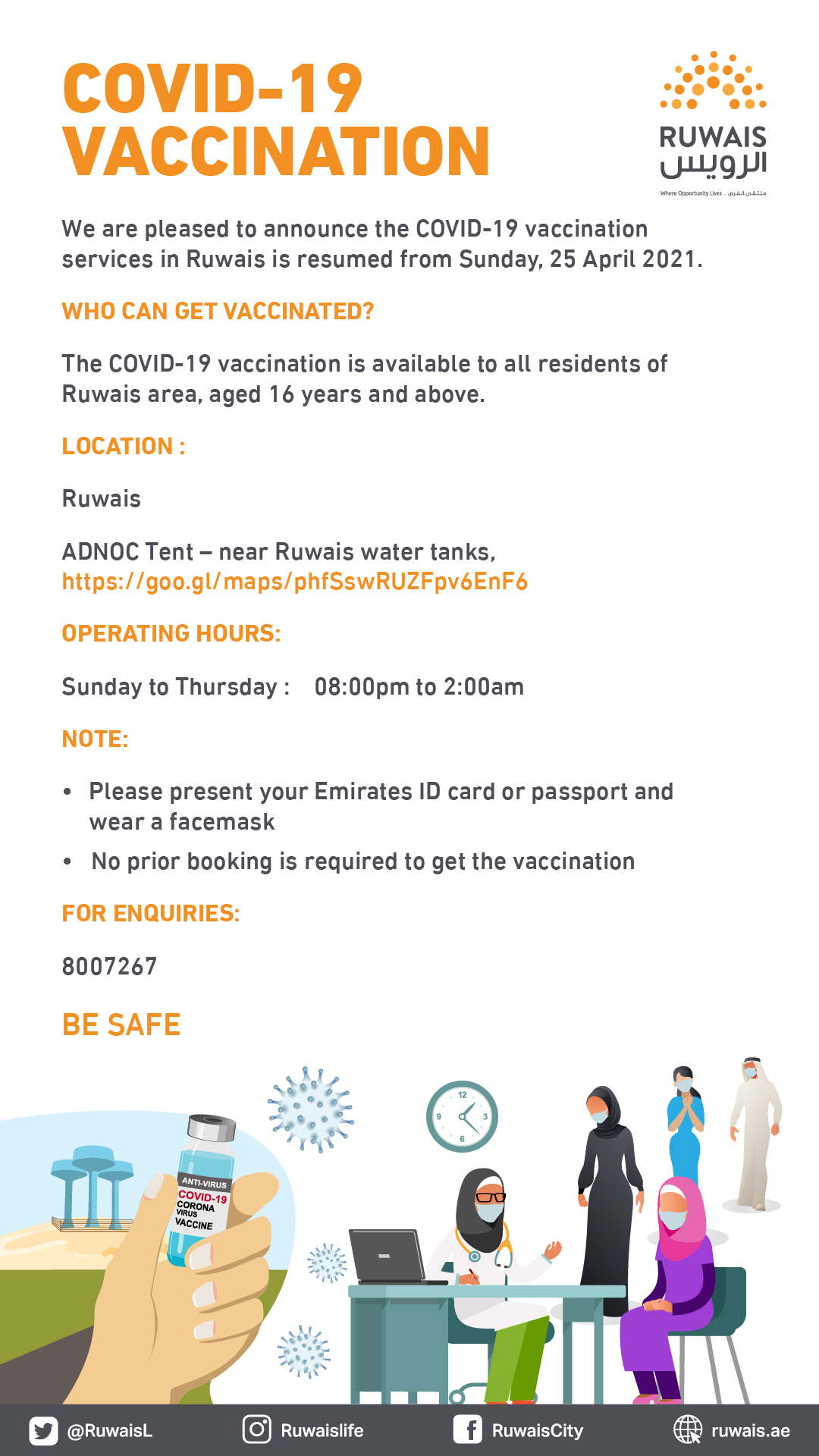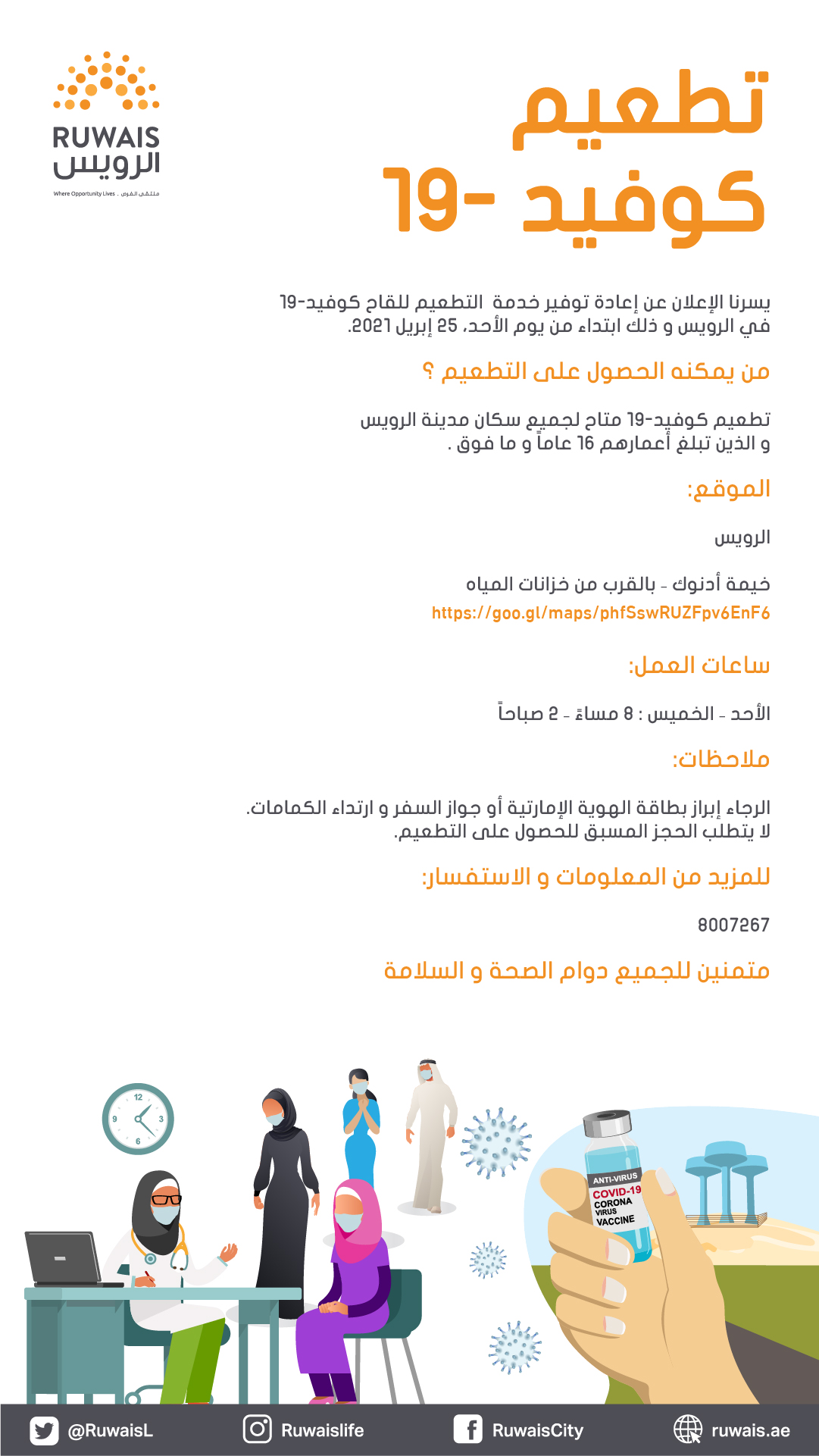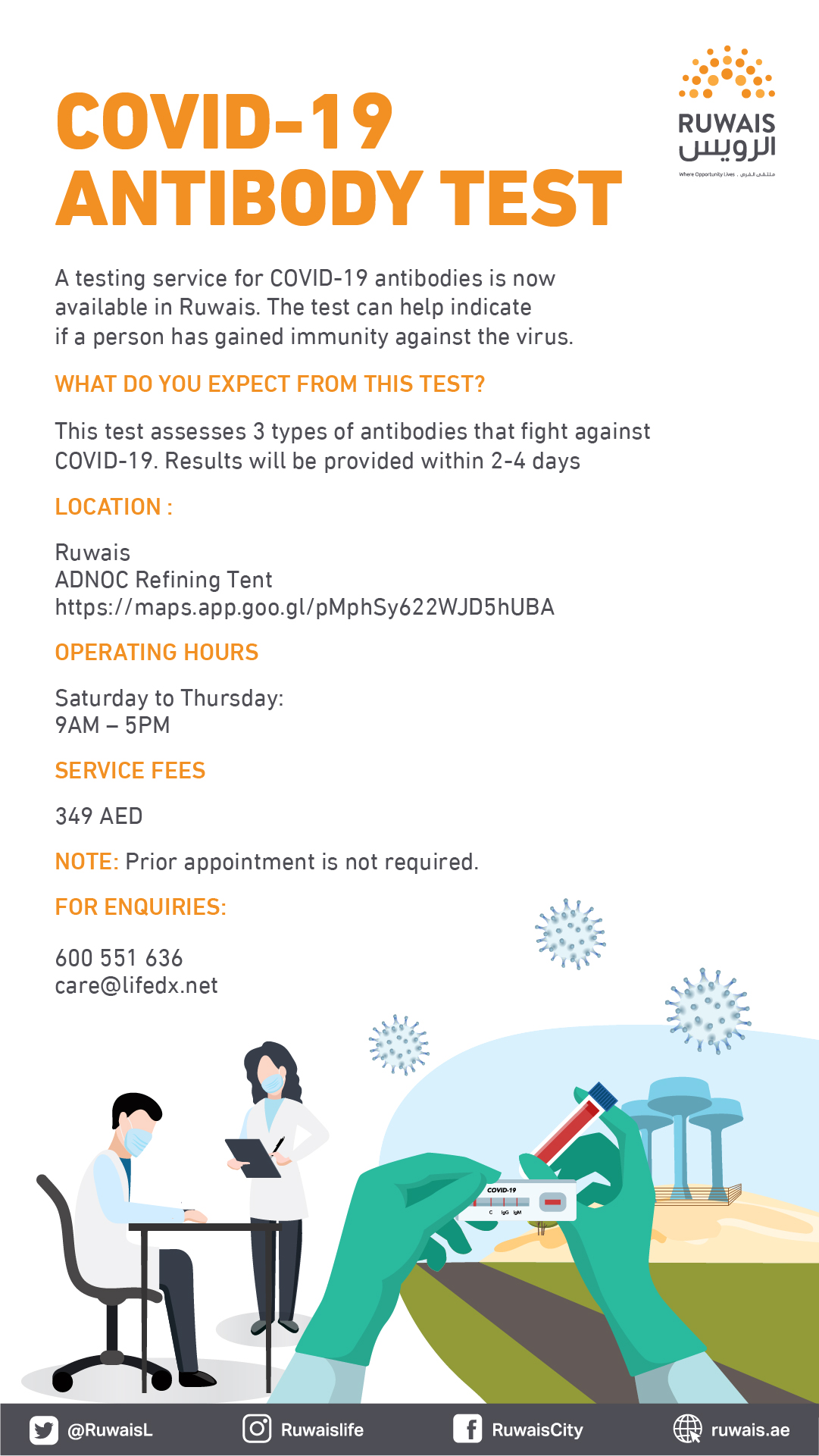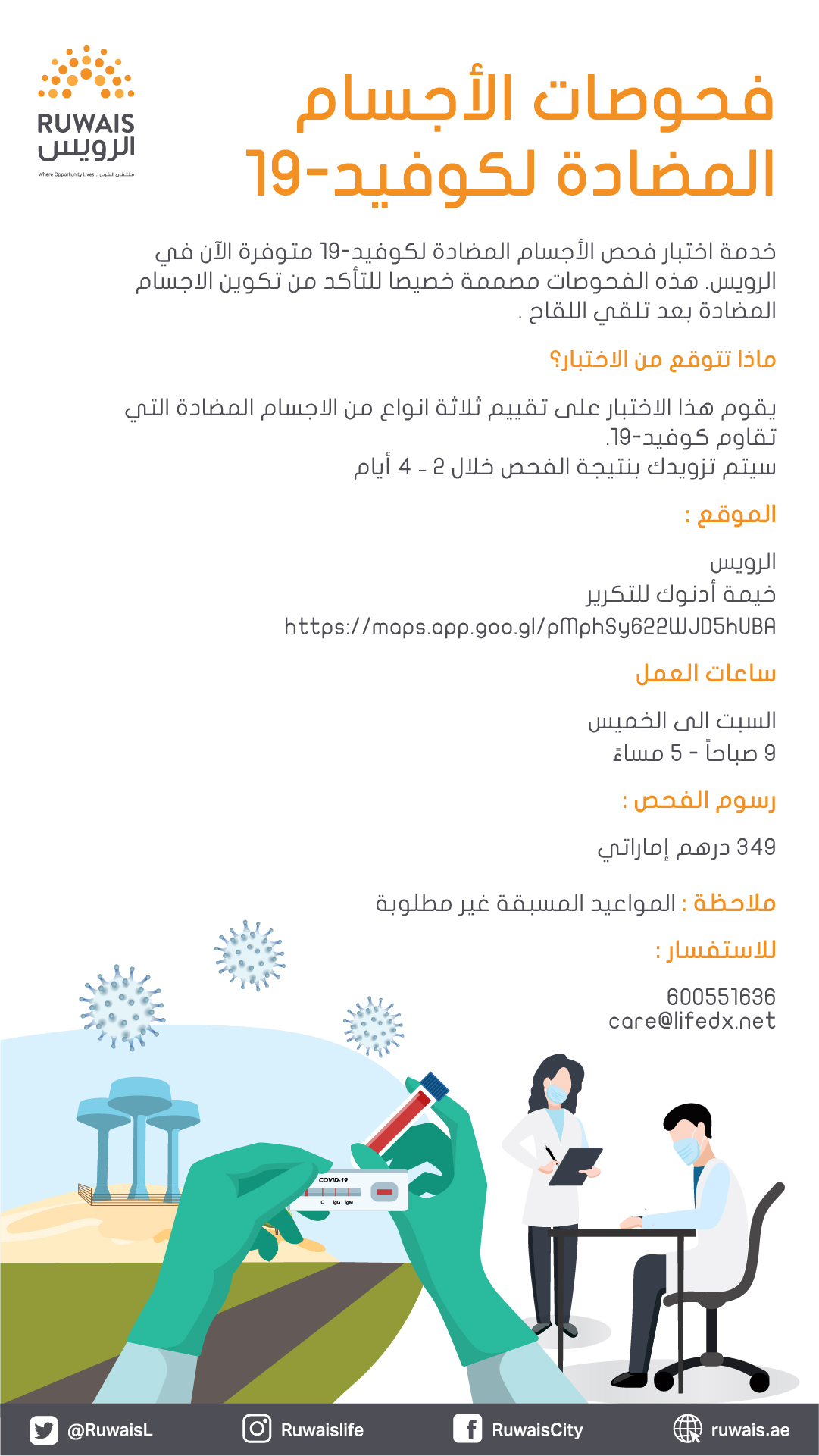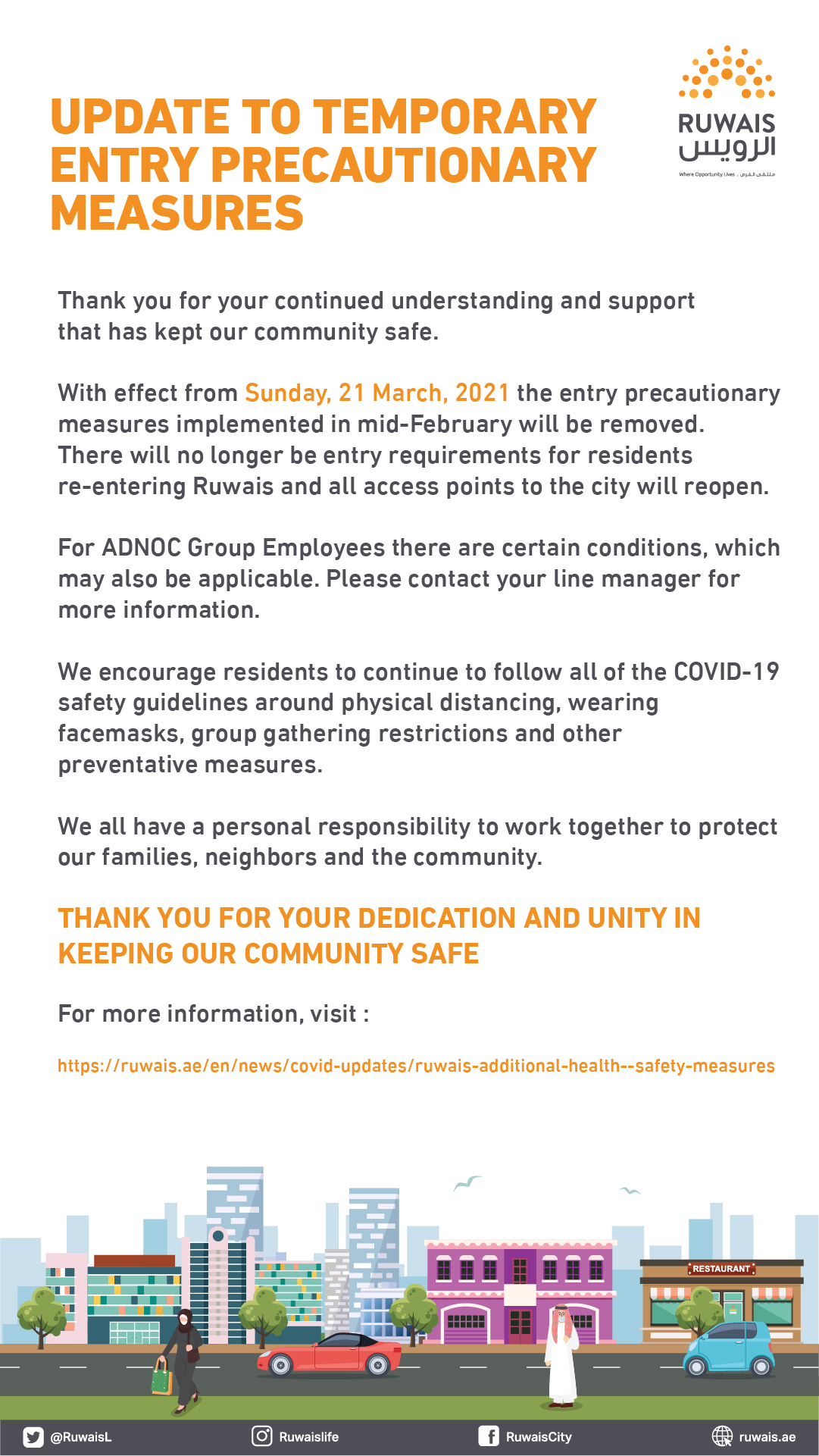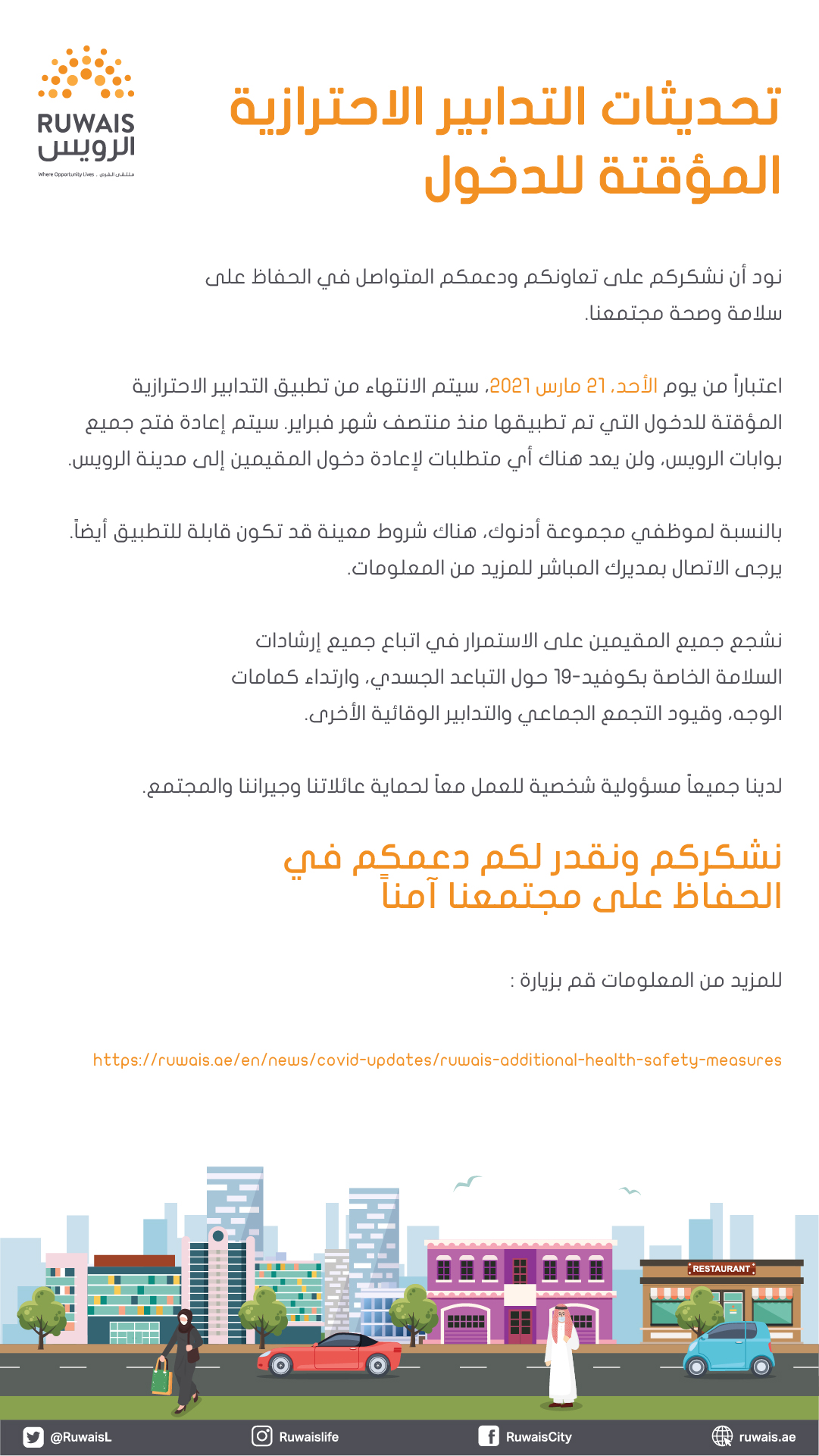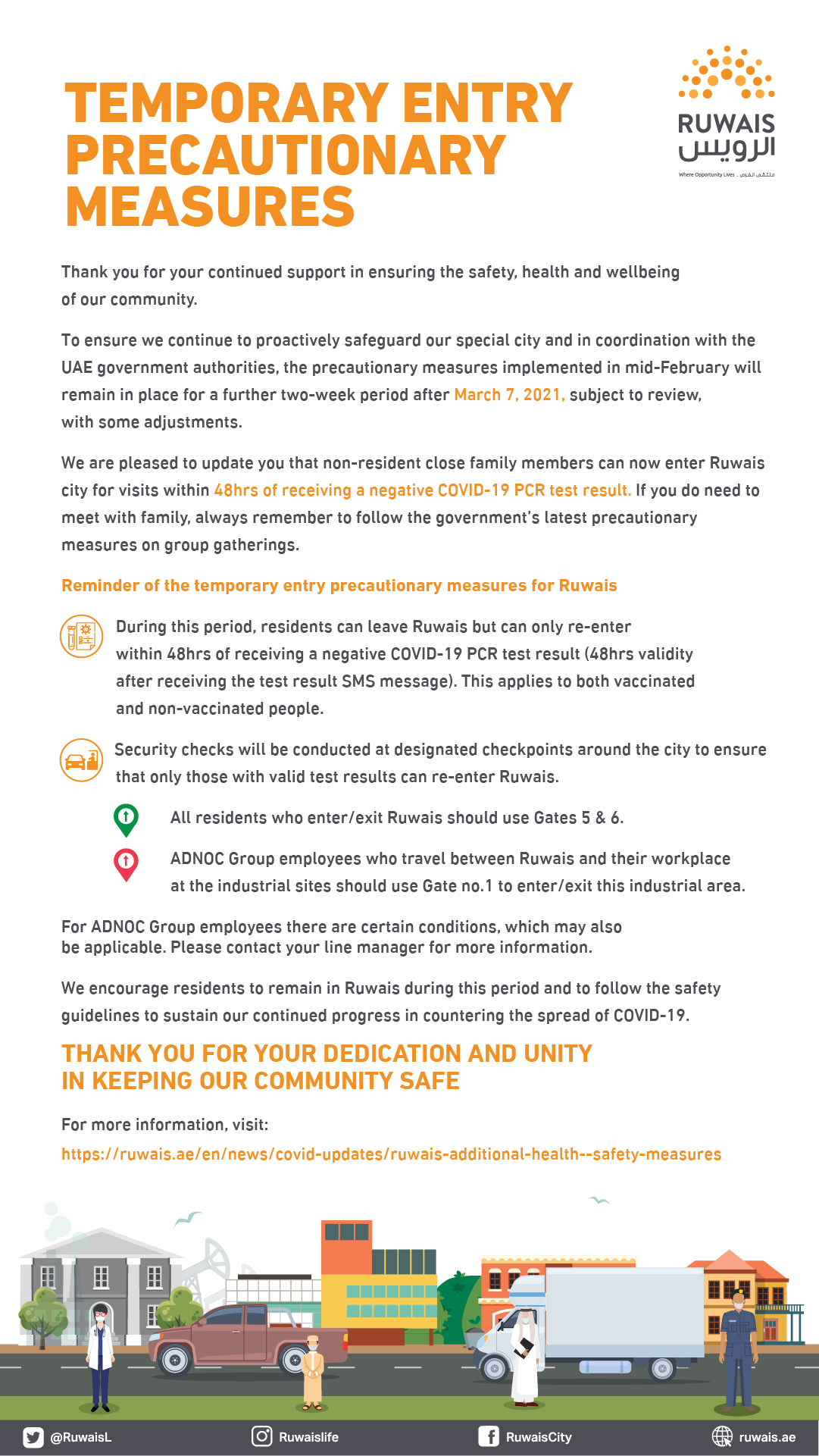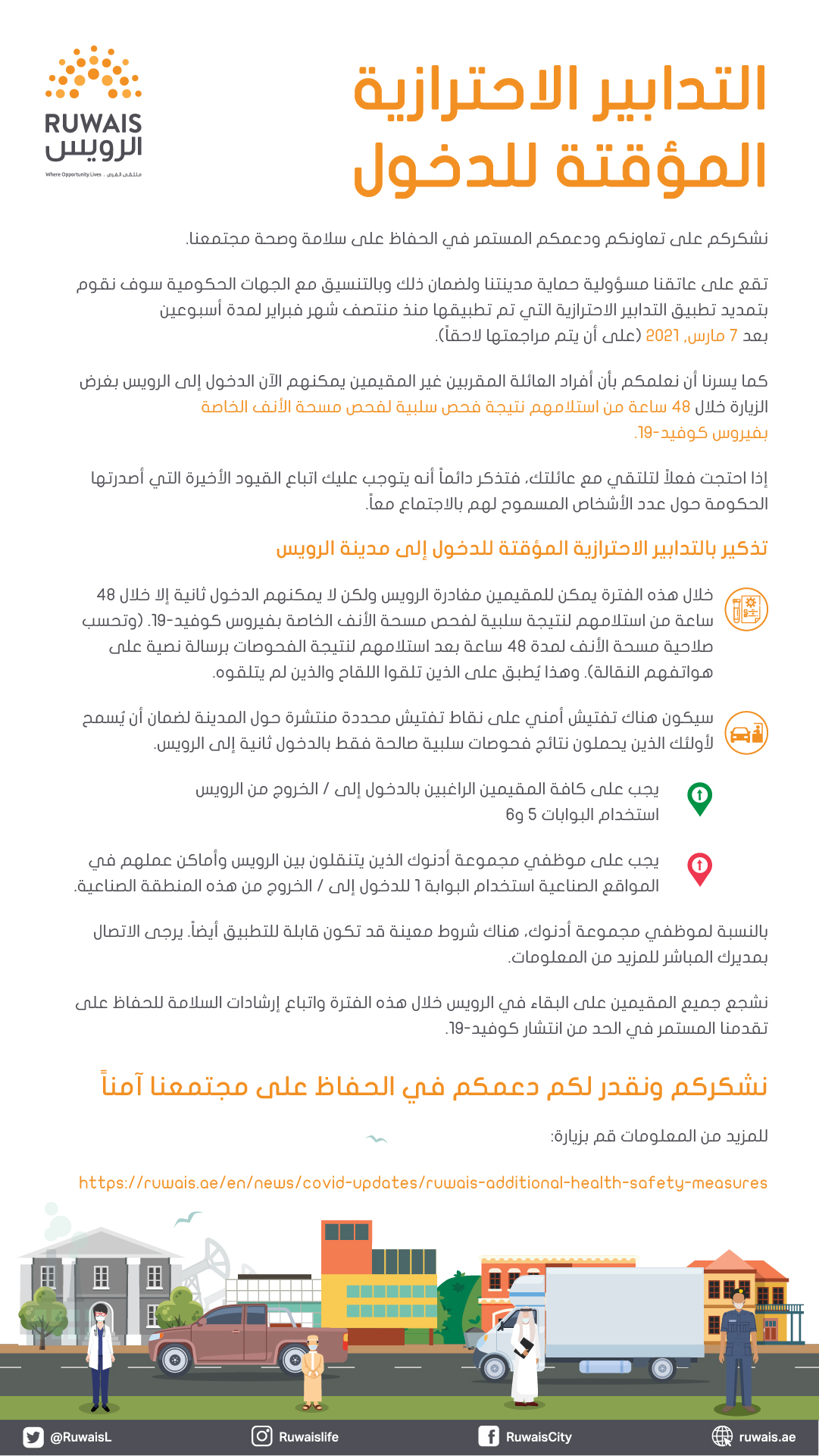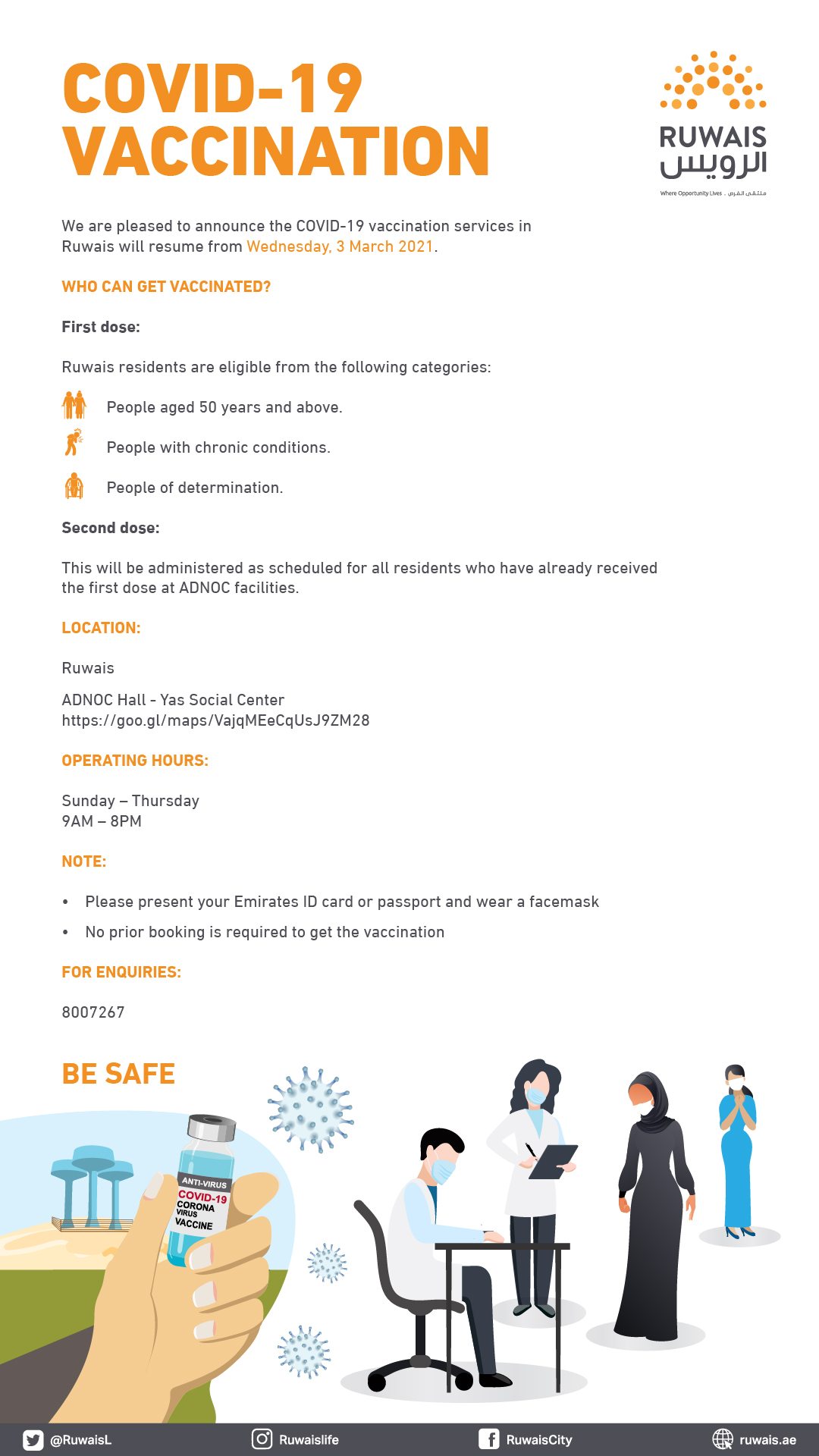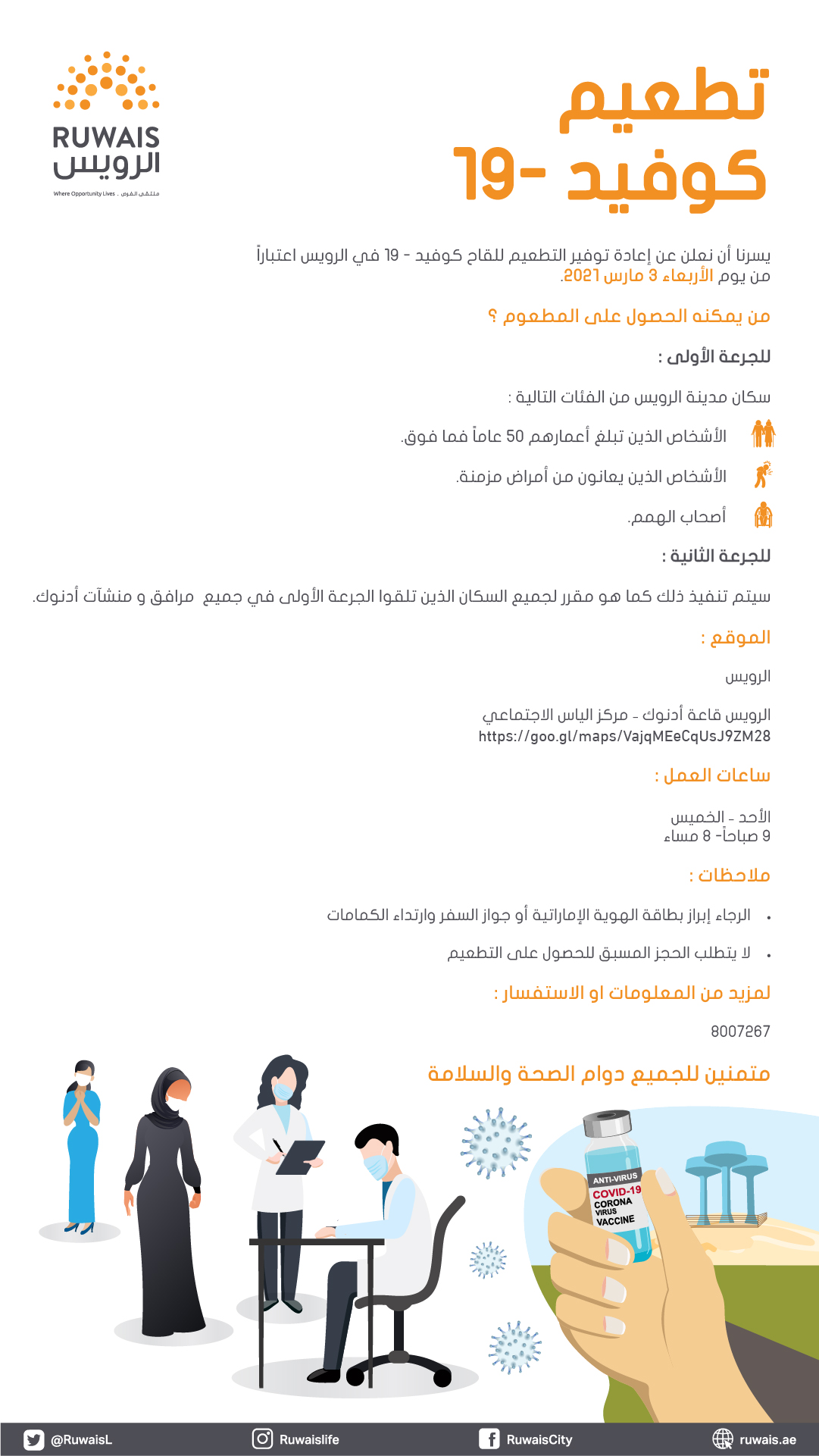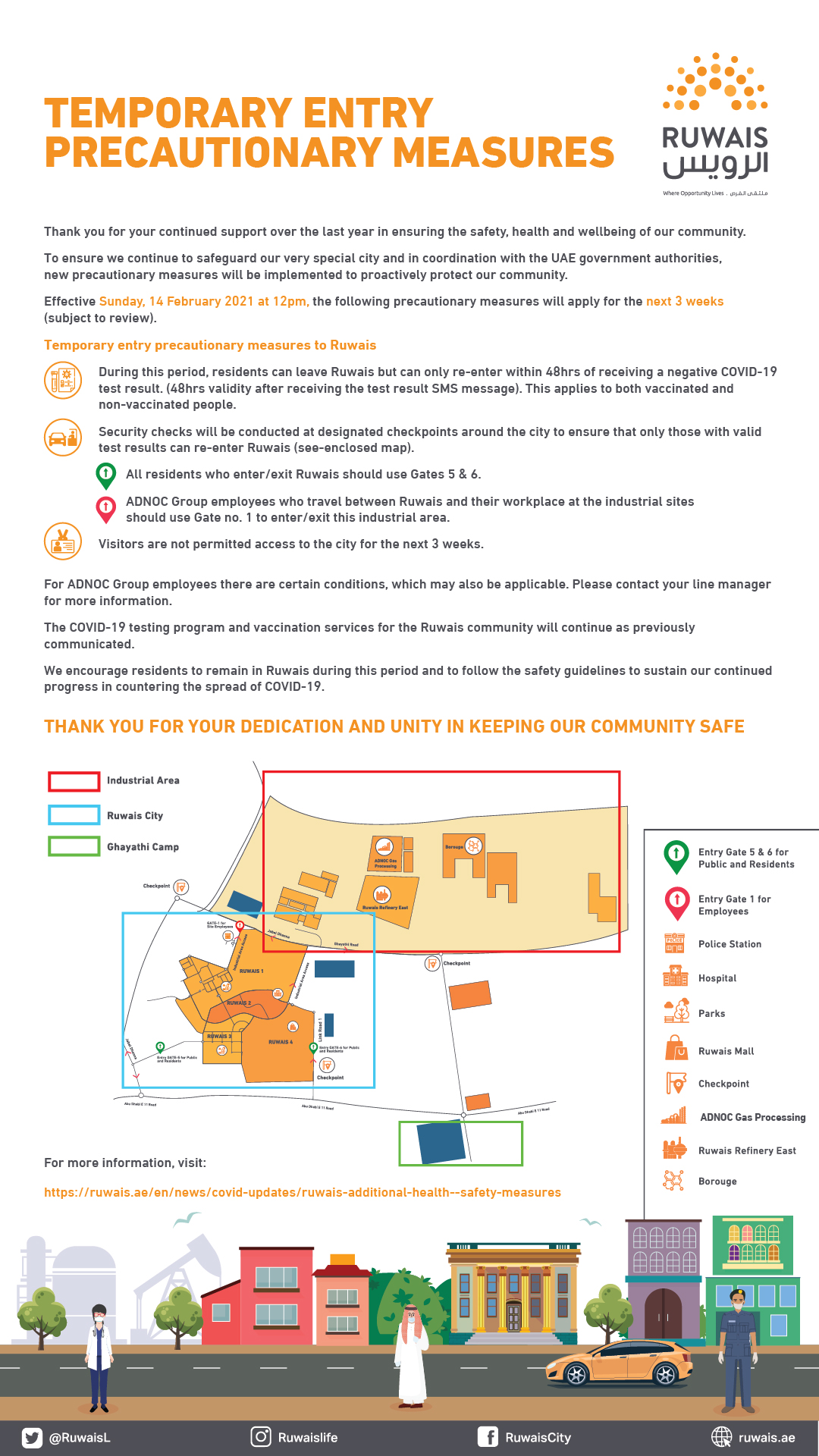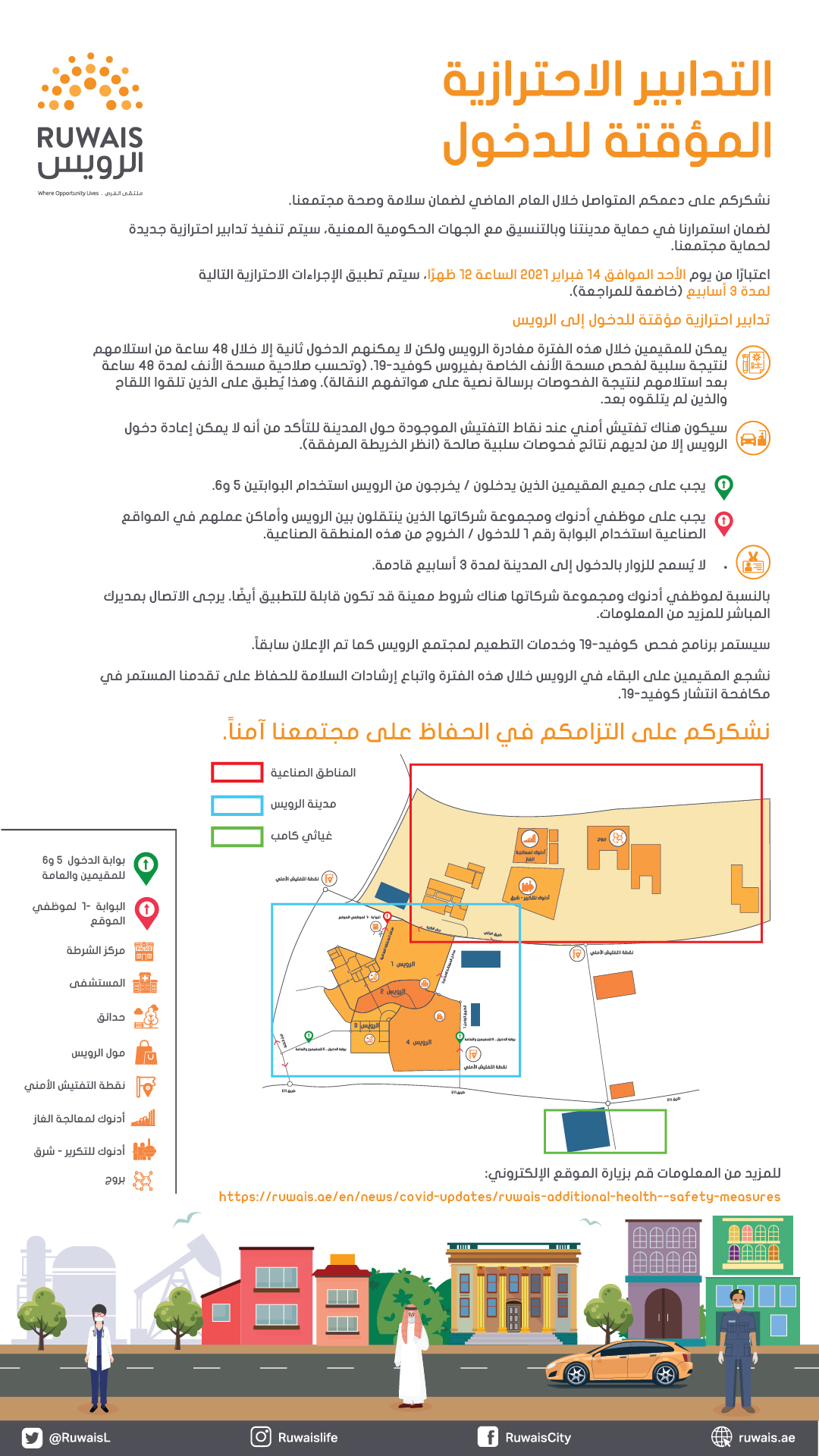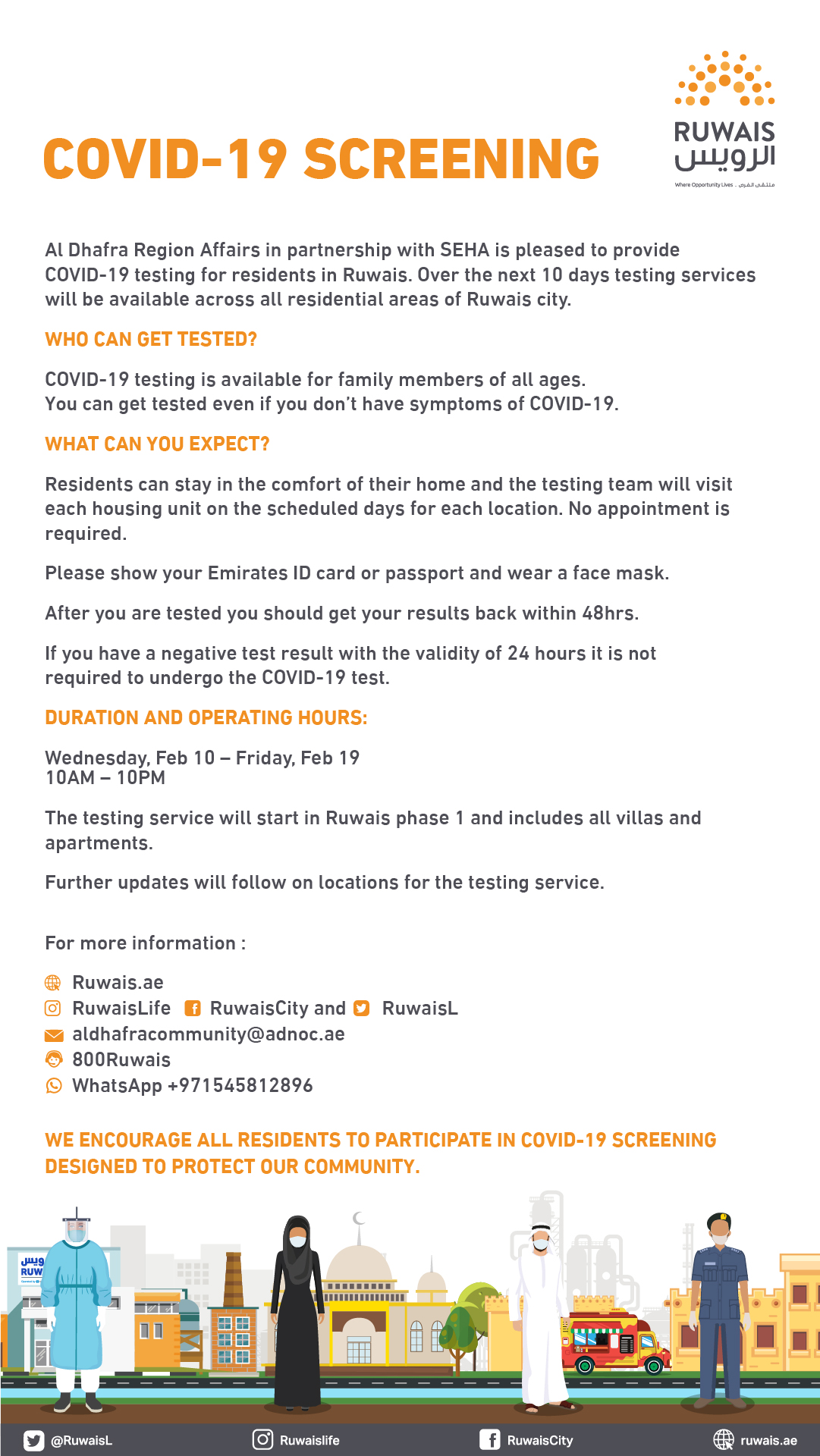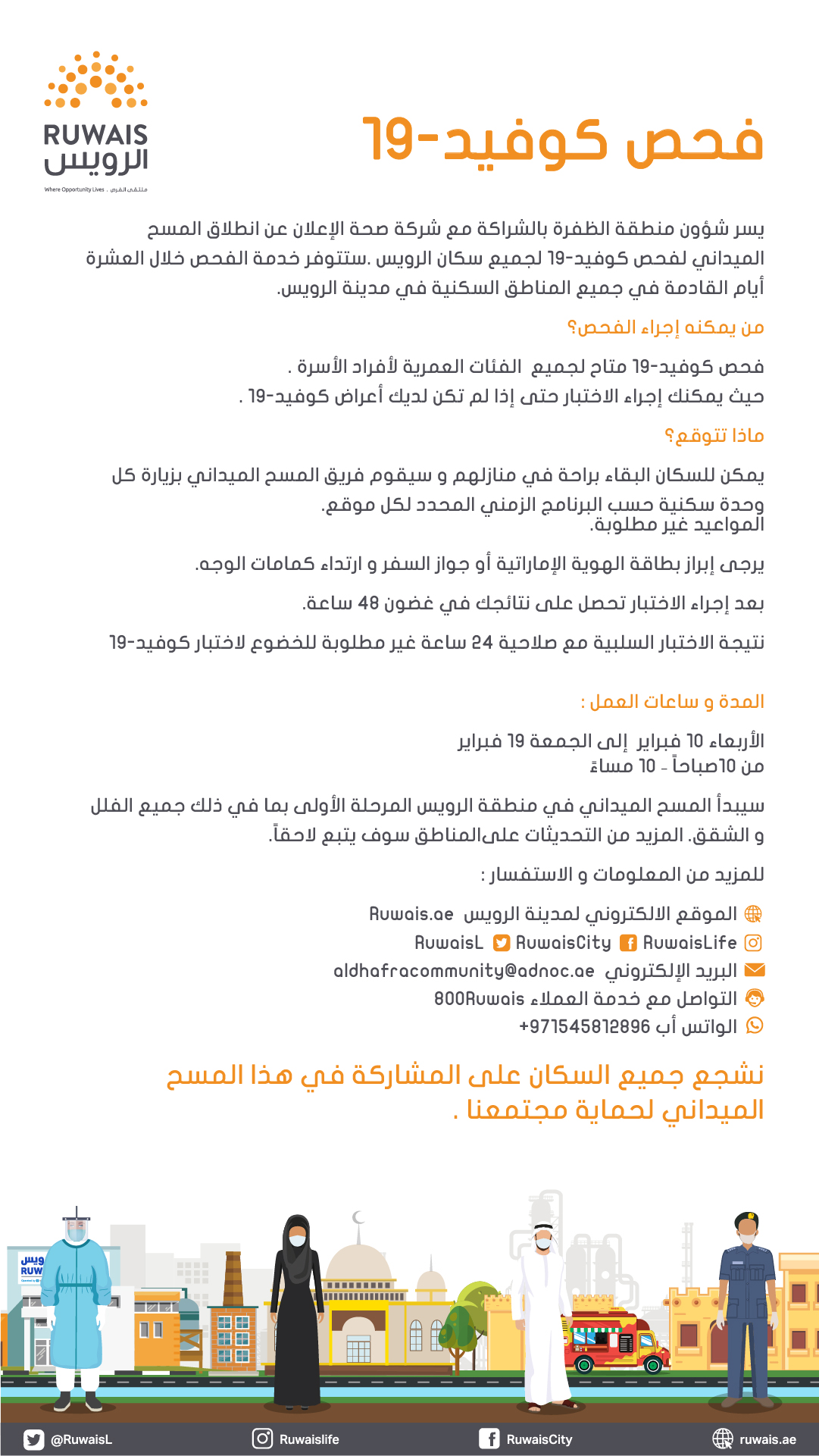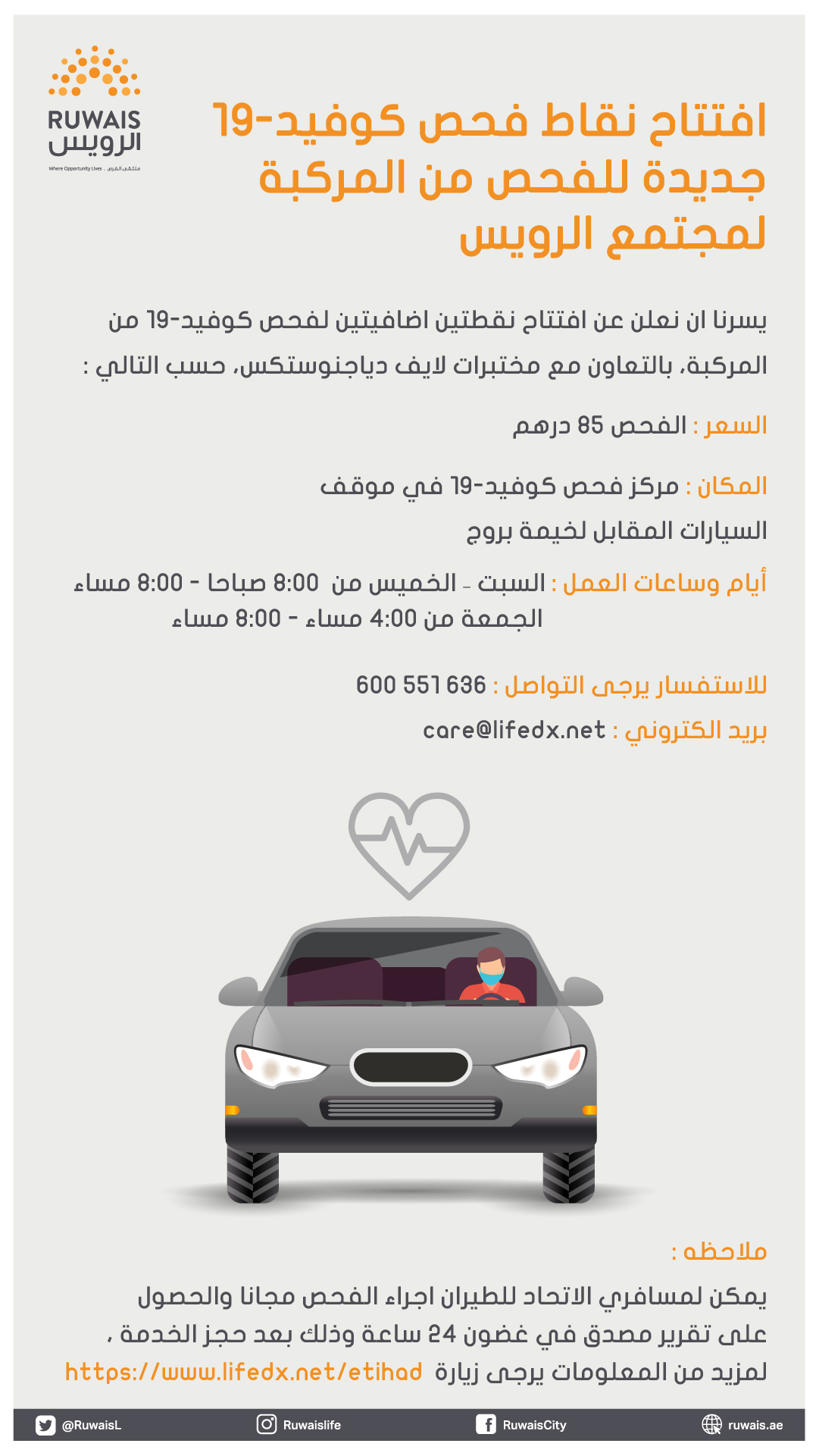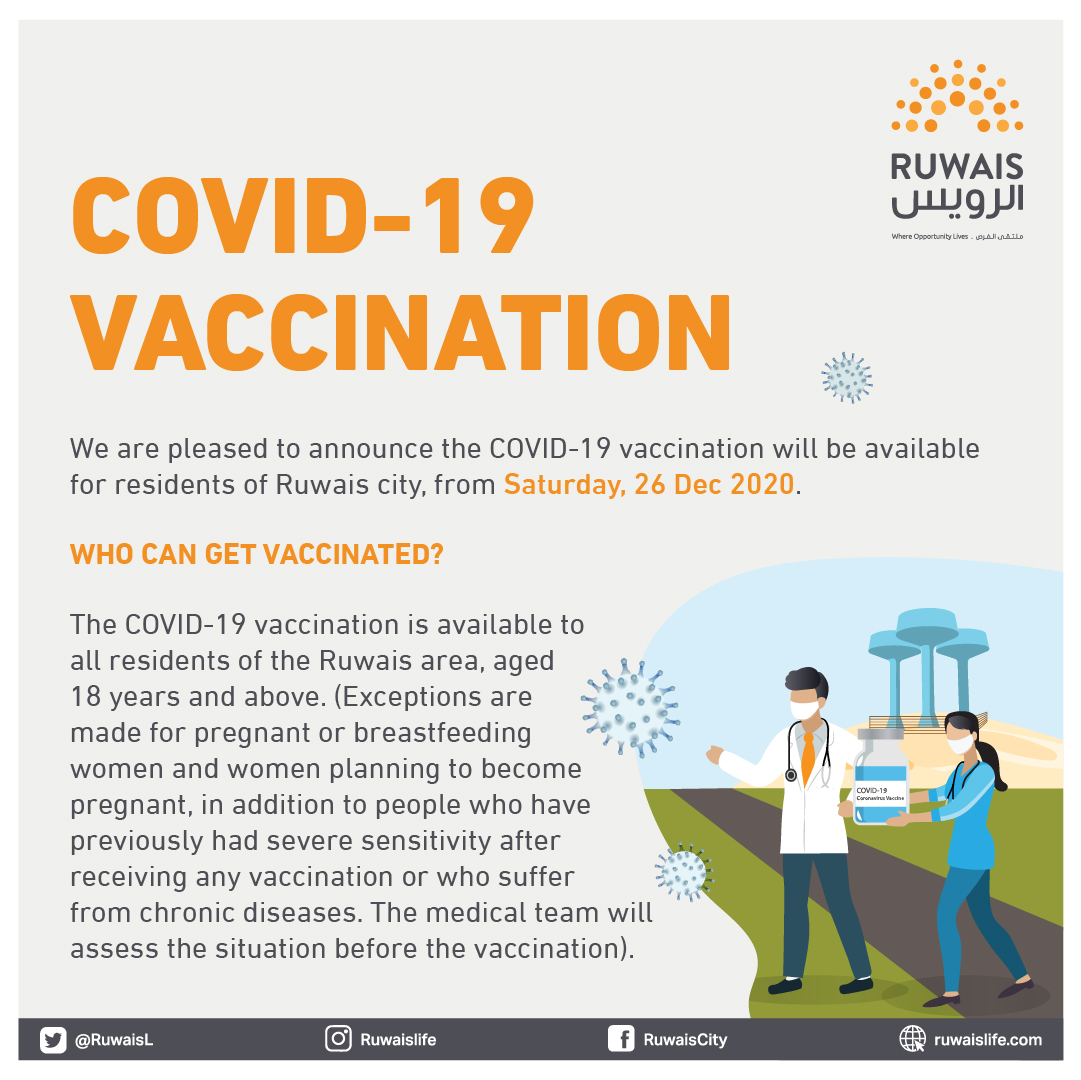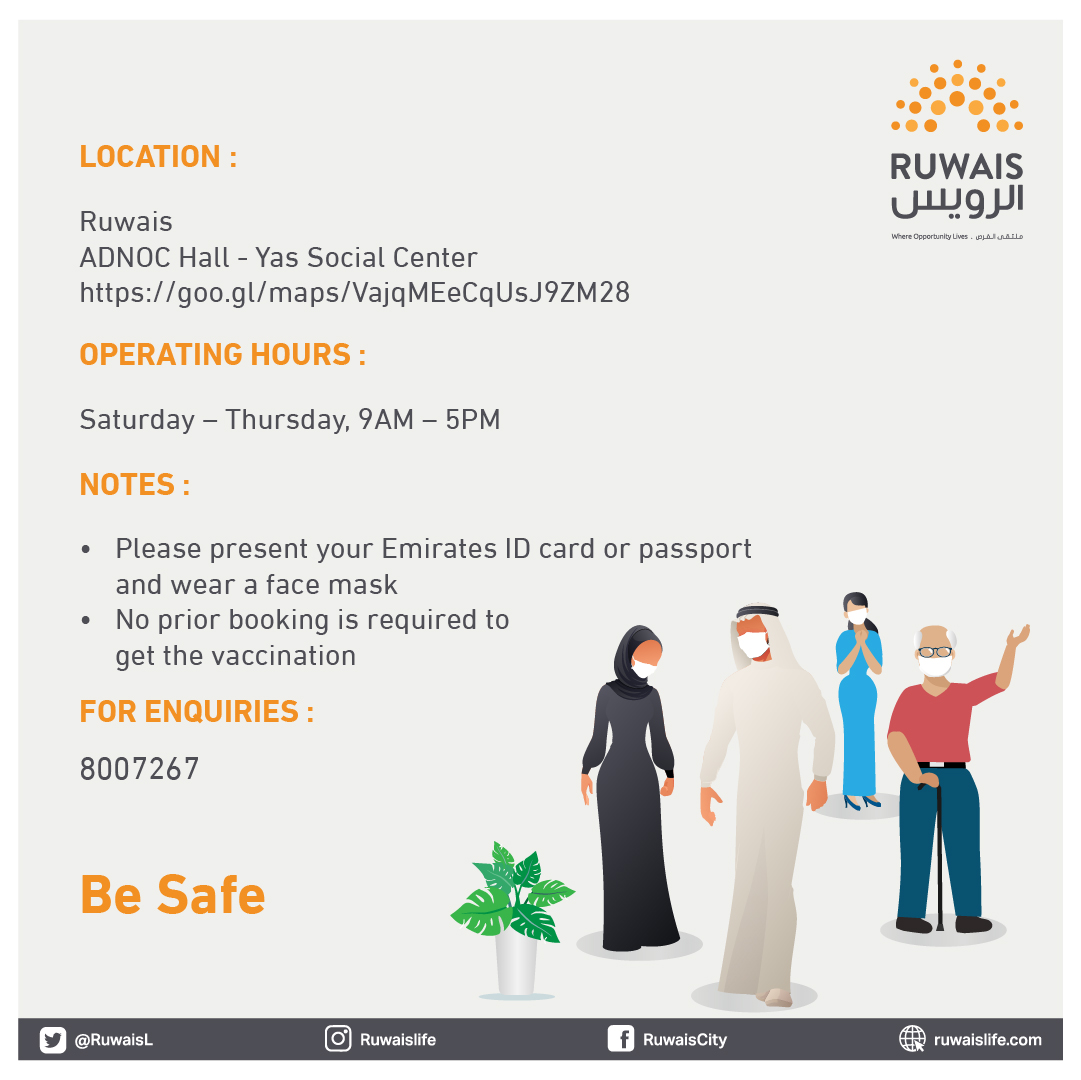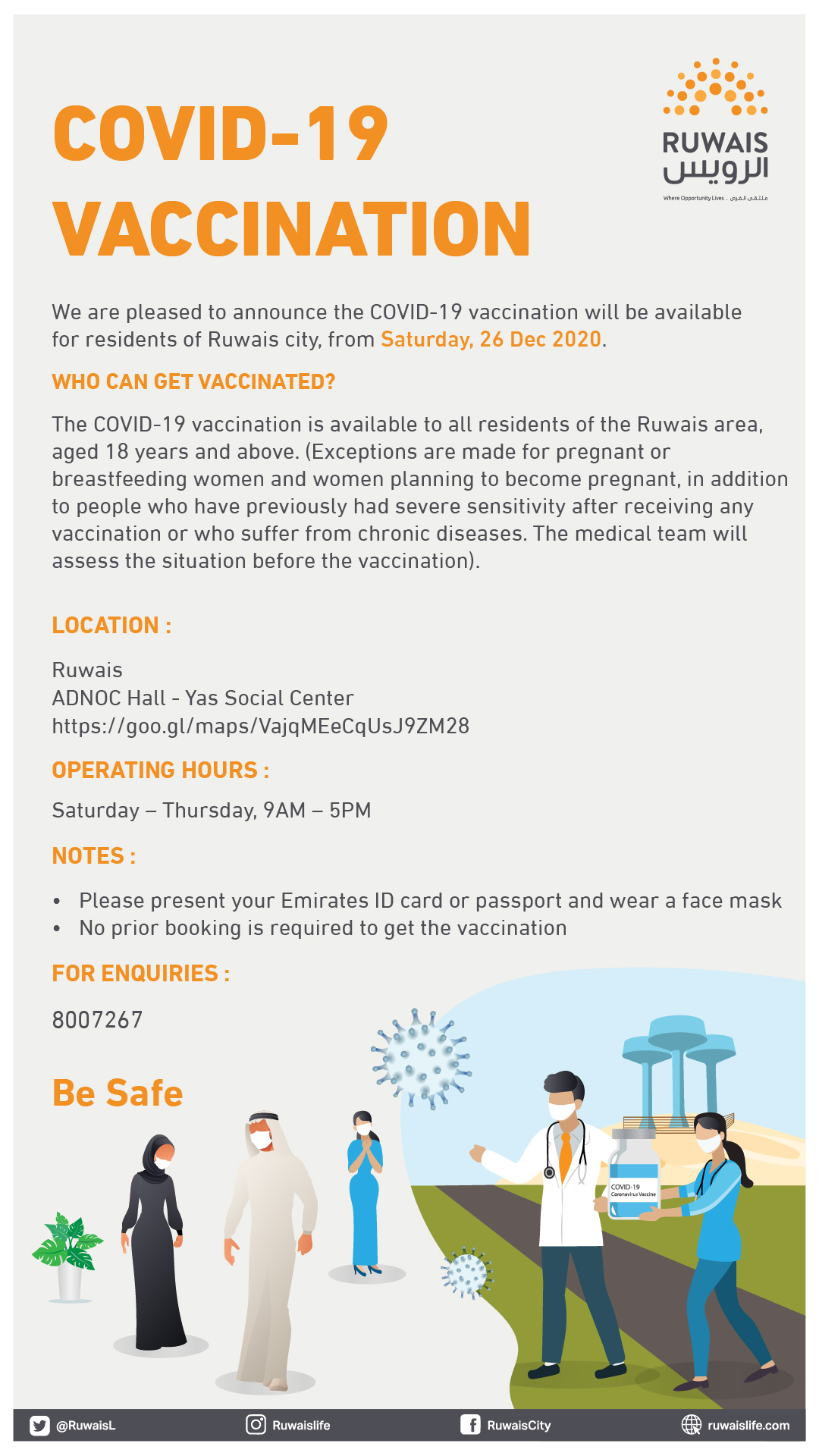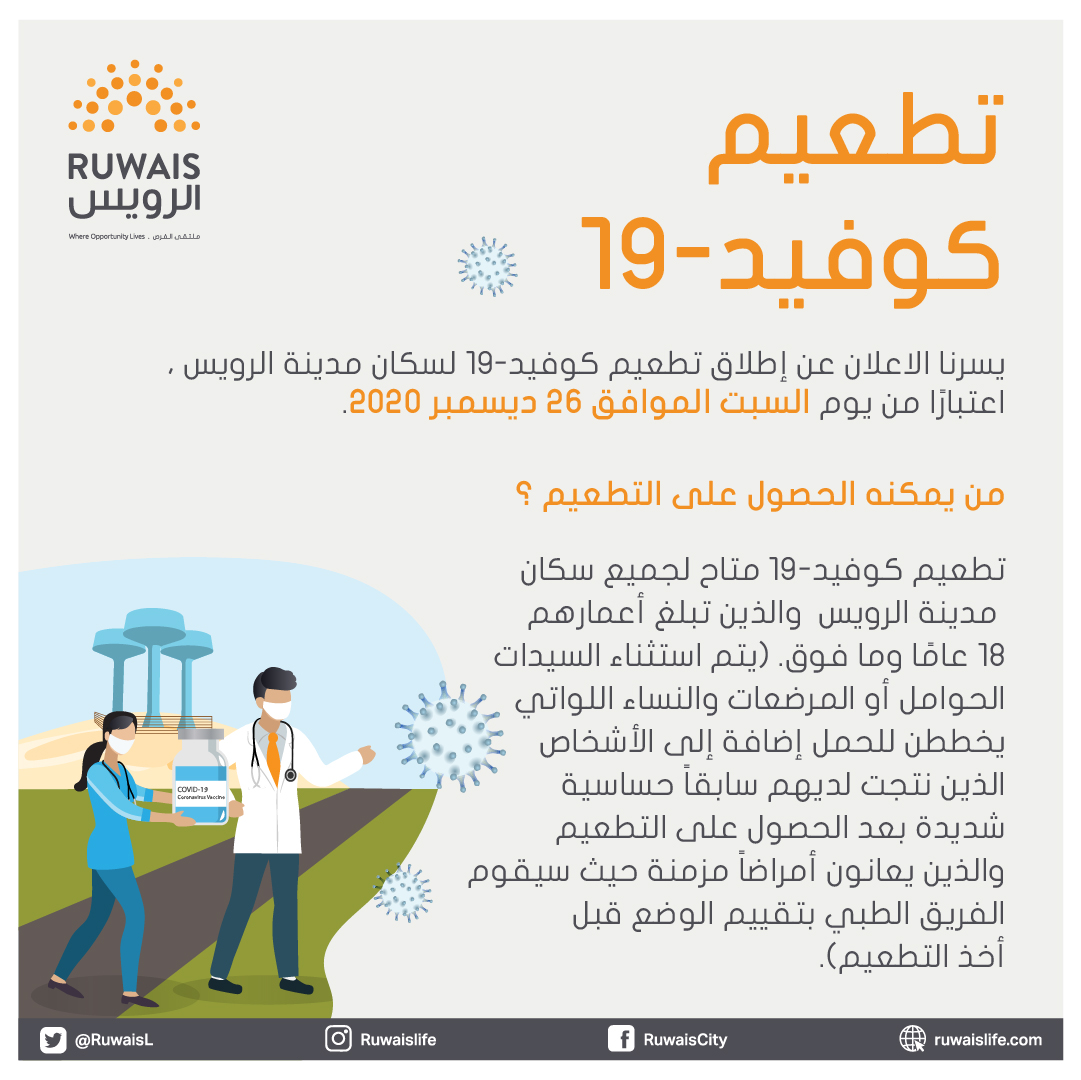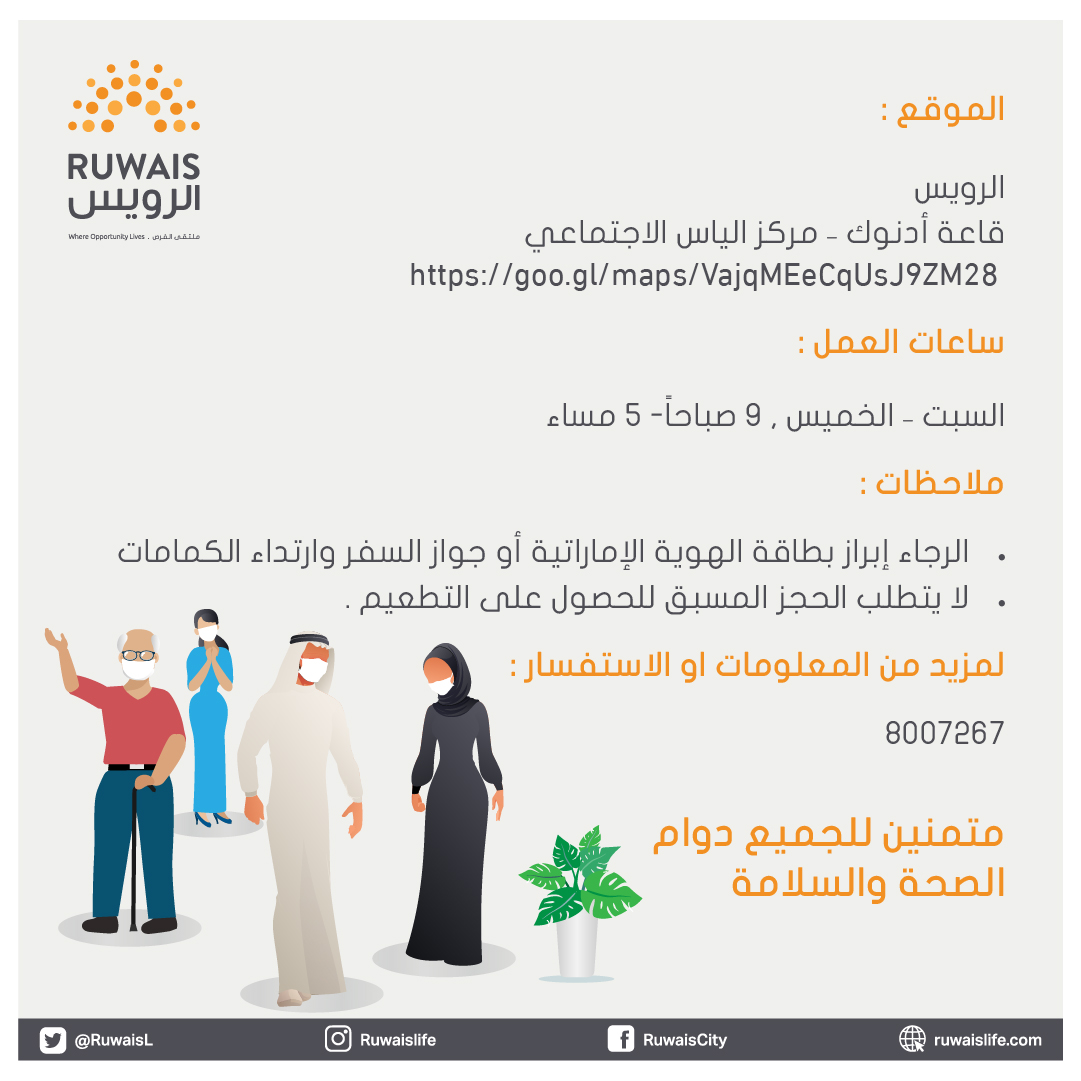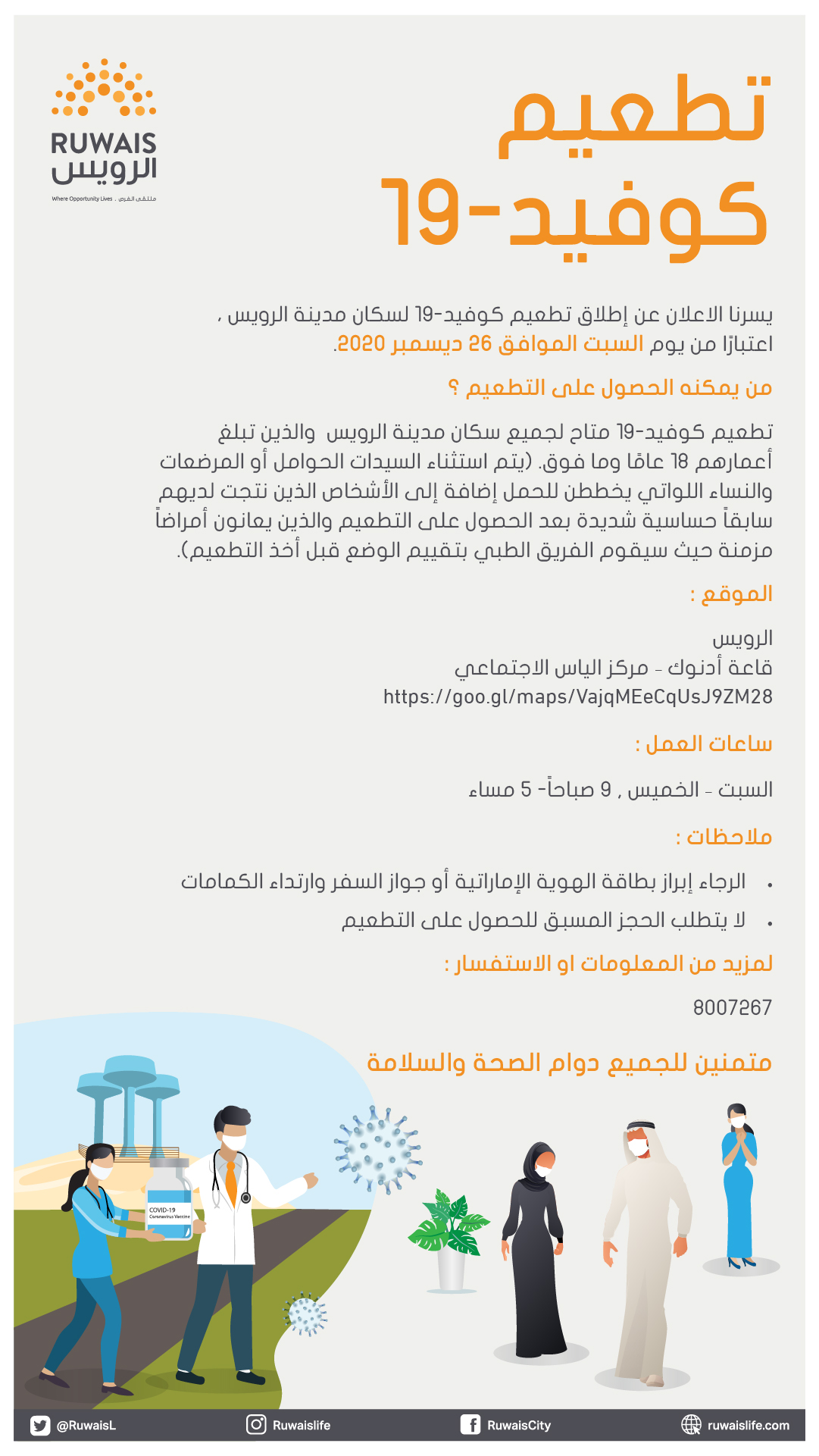 Ensuring the health and safety of the Ruwais community is our top priority. We are committed to continuing to implement measures designed to minimize the spread of COVID-19 and potential risks for exposure.

As the response to the COVID-19 pandemic is evolving, the UAE's Governmental authorities are issuing directives which we are all expected to follow. By doing so, each of us will help protect our loved ones, our community and the UAE.
Please see below additional health and safety measures issued on 9th August, 2020, and frequently asked questions.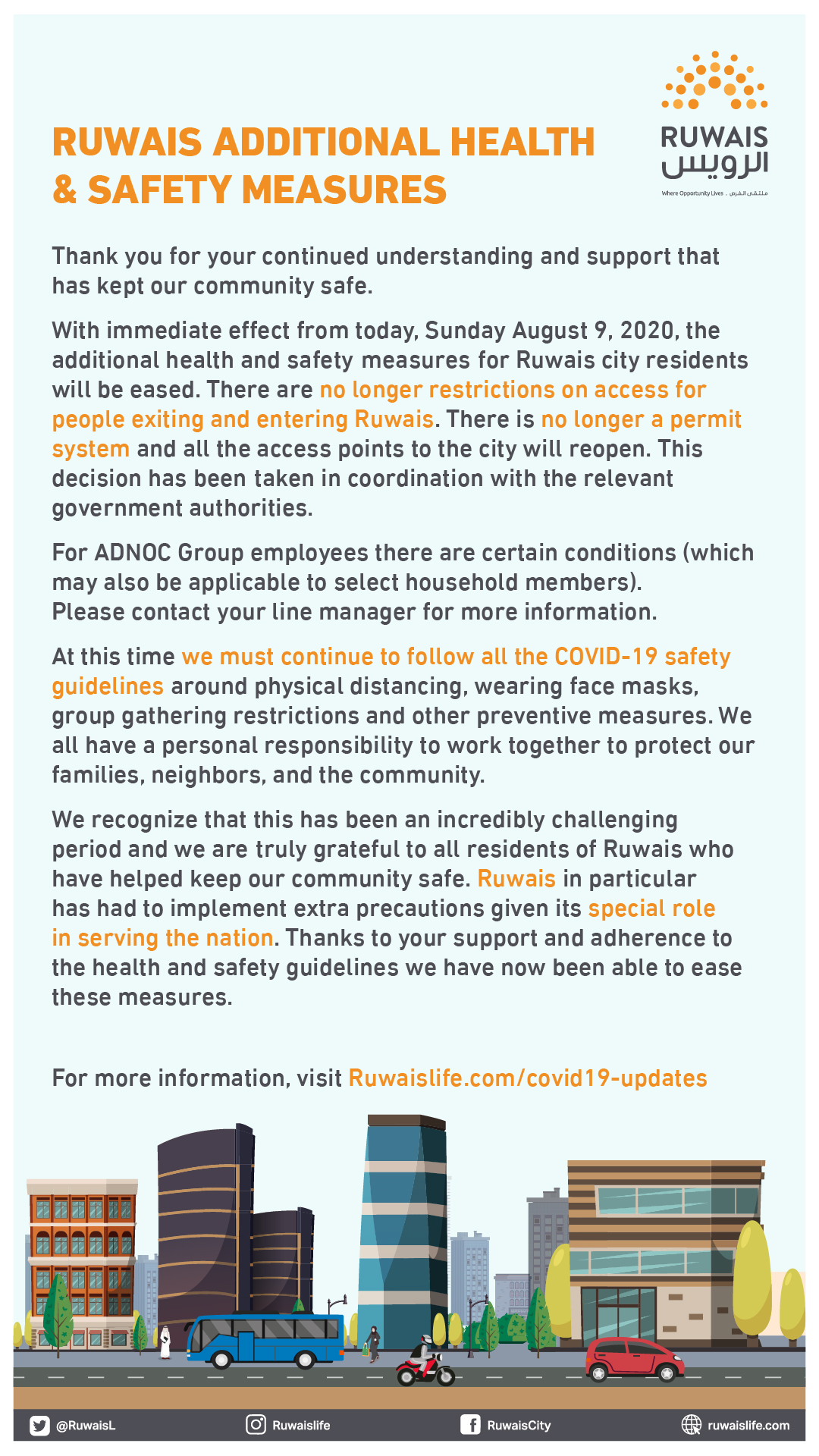 COVID-19 Frequently Asked Questions
+ What is COVID-19?
The World Health Organization defines coronavirus as a large family of viruses which may cause illness in animals or humans. In humans, several coronaviruses are known to cause respiratory infections ranging from the common cold to more severe diseases such as Middle East Respiratory Syndrome (MERS) and Severe Acute Respiratory Syndrome (SARS). The most recently discovered coronavirus causes coronavirus disease COVID-19.
+ What are the symptoms of COVID-19?
The World Health Organization reports that the most common symptoms of COVID-19 are fever, tiredness, and dry cough. Some people may have aches and pains, nasal congestion, runny nose, sore throat or diarrhea.
+ How can I avoid catching the virus?
To help reduce your COVID-19 exposure risk, the World Health Organization recommends the following preventative measures:
Wash your hands frequently
Regularly and thoroughly wash your hands with soap and water or, if not available, use hand sanitizer.
Maintain social distancing
Maintain at least 2 meters (6 feet) distance between yourself and anyone who is coughing or sneezing.
Avoid touching eyes, nose and mouth
Our hands touch many surfaces and can pick up viruses. Once contaminated, hands can transfer the virus to your eyes, nose or mouth. From there, the virus can enter your body and can make you sick.
Practice respiratory hygiene
Make sure you, and the people around you, follow good respiratory hygiene. This means covering your mouth and nose with your bent elbow or tissue when you cough or sneeze. Then dispose of the used tissue immediately.
+ What has been done to prevent COVID-19 in Ruwais City?
In line with the UAE government's efforts and guidelines to counter the spread of COVID-19, we have implemented extensive Ruwais City specific initiatives to ensure the safety of our people. These initiatives include hand sanitizers in residential buildings, distribution of face masks and hand gloves, installation of thermal screening at major facilities, and regular disinfections and sanitization of all buildings and common areas in Ruwais. We encourage everyone to play their part by continuing to stay at home, except if you need food, emergency supplies or are part of the critical workforce.
+ Why do I need to stay at home?
You are urged to follow current Government guidance designed to minimize the spread of COVID-19, by staying home and only leaving for essential items – food and medicine – unless you are part of the critical sector workforce.
+ Is NMC Ruwais Hospital open?
NMC Ruwais Hospital continues to provide emergency medical and ambulance services 24/7. The ER hotline is 800 85 55. During this period, residents should limit visits to Ruwais hospital to emergencies only. For non-emergency medical issues or for outpatient services, including medication delivery, please call 800 7267 between 8am and 7pm.
+ Where can I get essential items in Ruwais - food, medicines etc?
All grocery stores in Ruwais are open daily
Lulu Hypermarket - opening hours: 8am-7pm
Fast food & restaurant delivery
All Pharmacies remain open daily. NMC Ruwais Hospital has also started an outpatient pharmacy delivery service. Please call 800 7267 between 8am and 7pm to access this service.
+ Will there be enough food and essential supplies in Ruwais to meet community needs?
Yes, this is a clear priority. There will be regular supplies to ensure that there is no shortage of essential goods.
+ I have a question that isn't answered here, where can I get more information?
For further information relevant to Ruwais City please email: aldhafracommunity@adnoc.ae or WhatsApp +971545812896
+ Where can I get more information about COVID-19 and how can I avoid getting it?
Please visit the links below for useful information on COVID-19:
+ Who do I call if I am displaying symptoms or if I have any medical questions?
• Abu Dhabi residents who display COVID-19 symptoms or suspect that they have been in contact with an infected person must call the Estijaba hotline on 8001717
• For emergencies within Ruwais call NMC Ruwais Hospital – 8007267
• For Ruwais pharmacy deliver service and for any non-emergency medical consultation call - 8007267
• Call the Ministry of Health Hotline for any other medical questions or queries – 80011111
Additional Health & Safety Measures
1. What is the latest update to the additional health and safety measures for Ruwais City?
With immediate effect from today, Sunday August 9, 2020, the additional health and safety measures for Ruwais city residents will be eased. There are no longer restrictions on access for people exiting and entering Ruwais. There is no longer a permit system and all the access points to the city will reopen. This decision has been taken in coordination with the relevant government authorities. For ADNOC Group employees there are certain conditions (which may also be applicable to select household members). Please contact your line manager for more information.
2. What does easing the measures mean for everyone in the Ruwais City?
This means that people living in the Ruwais residential area can move freely without the need to apply for permits, however health and safety protocols remain in place, specifically for those working for ADNOC Group companies. With the easing of restrictions, it becomes even more important that we all take personal responsibility to adhere to safety guidelines to sustain continued progress and counter the spread of COVID-19. It is critical that all of the COVID-19 safety guidelines around physical distancing, wearing masks, group gathering restrictions and other preventative measures continue to be followed by everyone in Ruwais, both residents and businesses.
3. Why has it taken longer for Ruwais to open when restrictions were eased elsewhere in Abu Dhabi and the UAE?
Ruwais is a community comprising of many energy sector employees and families. It is also a critical industrial hub for the UAE, which fuels our nation, drives our economy and keeps our daily lives going. Ruwais City has had to implement extra precautions to ensure we continue fueling the nation's economy.
4. How are we doing on managing the challenge of the spread of COVID-19?
The additional health & safety measures are working and have allowed us to keep our people safe as our top priority. As part of our continuous efforts to ensure the safety of our community, a drive-thru COVID-19 test center is also available in Ruwais. Around the world, early and proactive testing has proven to be the one of the most effective ways to identify and mitigate the spread of COVID-19, and also help those who have contracted the virus. To curb the spread of COVID-19, download ALHOSN contact tracing app to find out who has been in contact with individuals infected with the virus and to view your test results.